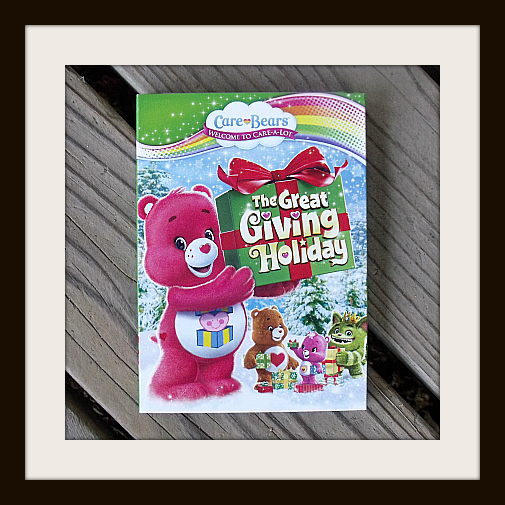 Holiday fun is right around the corner! With all the excitement and extra stimulation, it can be easy for kids to get overwhelmed.
Sweet Care Bears are always good at teaching good life lessons in a calm and relaxing way. That is especially true with the new Great Giving Holiday DVD.
The Christmas DVD includes over an hour of programming. In addition to the title episode, kids can watch the Cheeri-No bonus episode. The holiday themed DVD has the usual good lessons of teamwork and caring that are often found in Care-a-Lot.
Care Bears
The Great Giving Holiday DVD

Release date 11/5/13
Synopsis: "Come along to Care-a-Lot and join Great Giving Bear, Harmony and all their cuddly Bear friends in this new adventure filled with holiday cheer! Great Giving Day and hibernation are just around the corner…and so is trouble! The unbearable Beastly tries to spoil the holidays, the Great Giving Day Pageant is overrun by a troublemaker and Cheer's helpful nature means she might not gather enough food for hibernation. Only with teamwork and caring can the Bears come together in friendship to save this special time of year."
The stories are sweet and are gentle and relaxing. This DVD will be a wonderful way for kids to take a break from hectic holiday schedules.
Enter daily through the Rafflecopter form below: