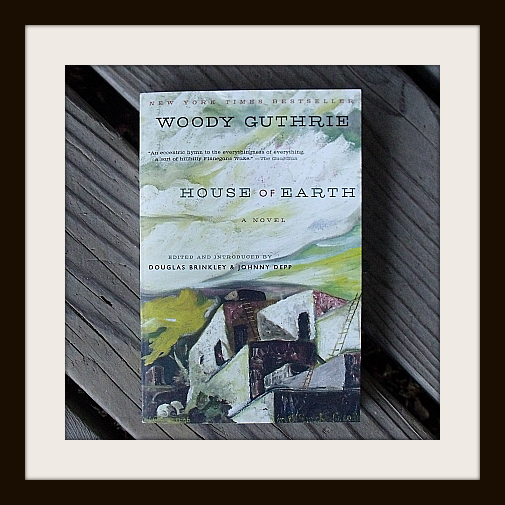 A book by Woody Guthrie that's being published in 2013? Yes.
Woody is known for his popular folk songs and passed away in the 1960's. This novel was written by the same man in 1947 and finally made it's public debut this year. I hadn't been aware that he was also a writer, but it's a naturally related talent and this book is what I would expect from him.
The Woody Guthrie song "This Land is Your Land" was a favorite of mine when I was young and it still fills me with hope. I remember singing it in elementary school and feeling empowered to celebrate and respect uniqueness, since we are all in this world equally together.
House of Earth is filled with that same type of hope. Many things have changed since this book was written, but there are also many similarities to today. Life is not easy for these characters, but they understand the need to work hard and the need to have a dream even if it seems as if 'the system' is against you.
This book would be an excellent choice for a book club. Discussions about the characters and parallels to our modern times would be very interesting. If Woody was still around today, I'm sure he would enjoy joining in on the discussion.
House of Earth

by Woody Guthrie
isbn 978-0062248404
Pub. date 10/22/13
Description: "Tike and Ella May Hamlin struggle to plant roots in the arid land of the Texas Panhandle. The husband and wife live in a precarious wooden farm shack, but Tike yearns for a sturdy house that will protect them from the treacherous elements. Thanks to a five-cent government pamphlet, Tike has the know-how to build a simple adobe dwelling, a structure made from the land itself—fireproof, windproof, Dust Bowl–proof. A house of earth. Though they are one with the farm and with each other, the land on which Tike and Ella May live and work is not theirs. Due to larger forces beyond their control—including ranching conglomerates and banks—their adobe house remains painfully out of reach."
CONNECT – You can follow HarperBooks on Twitter.
Enter daily through the Rafflecopter form below: