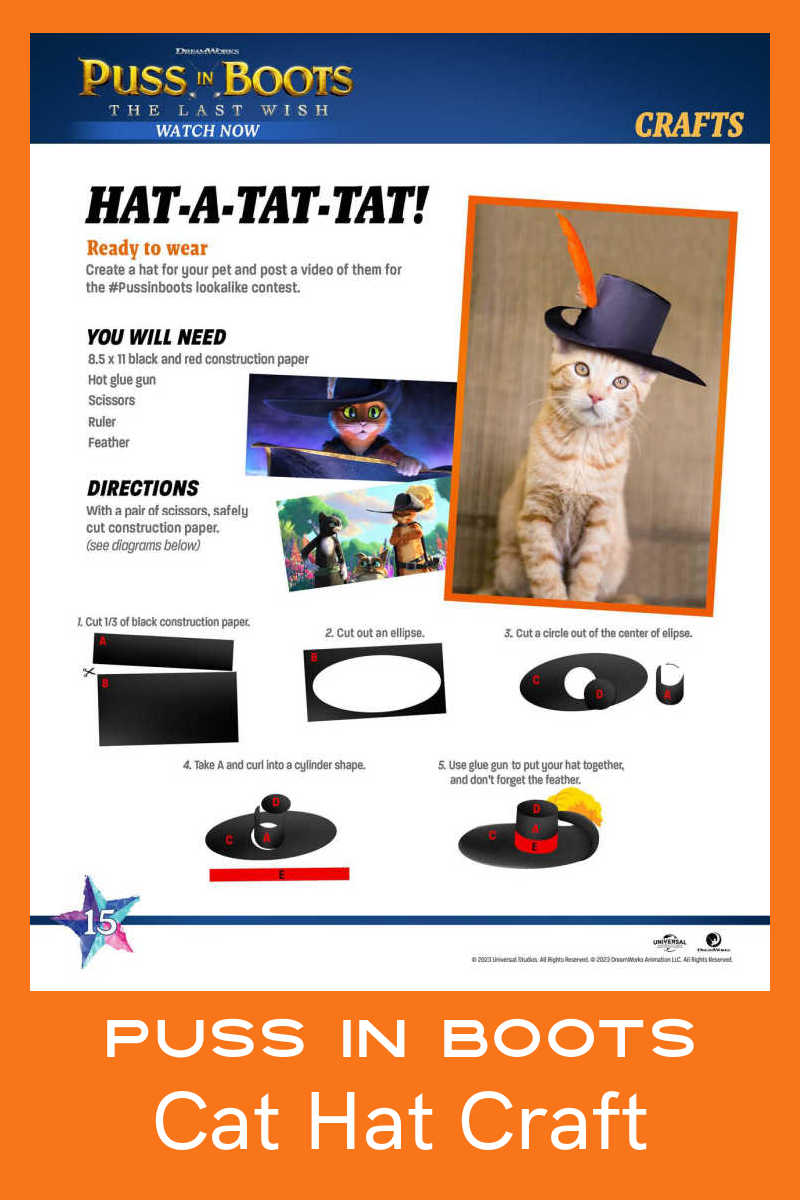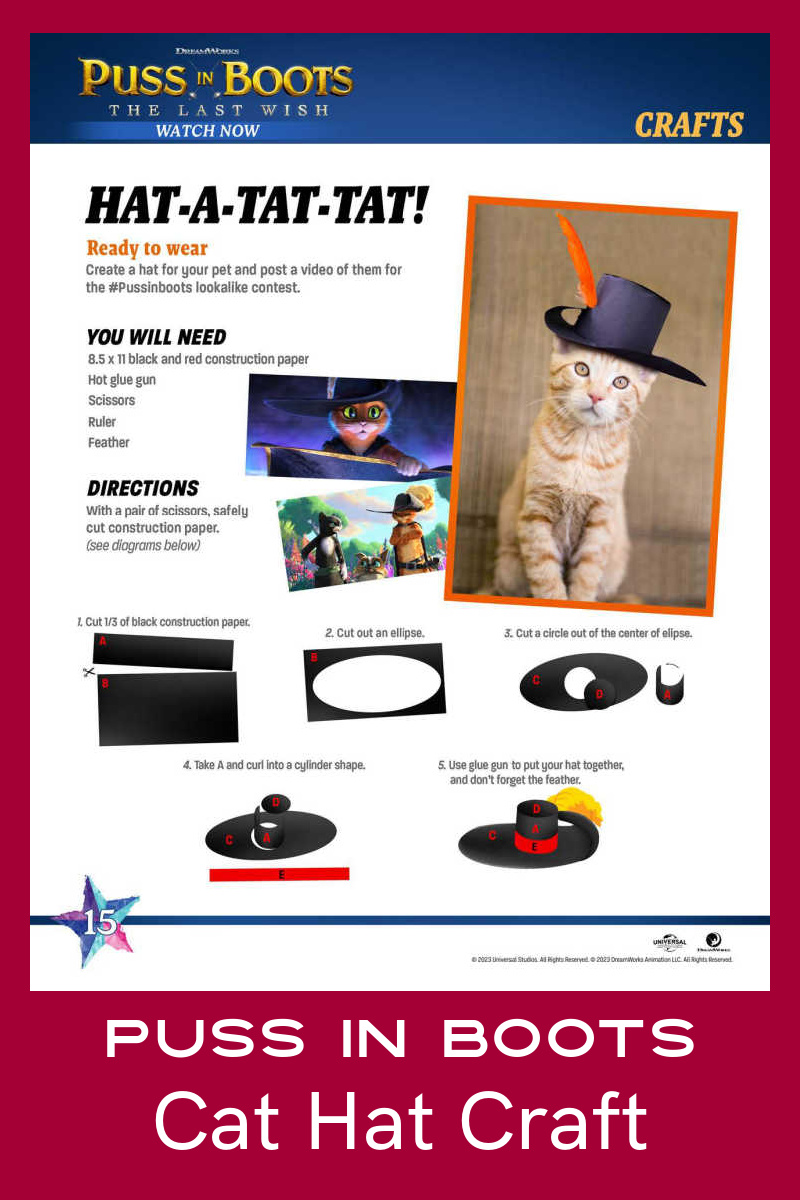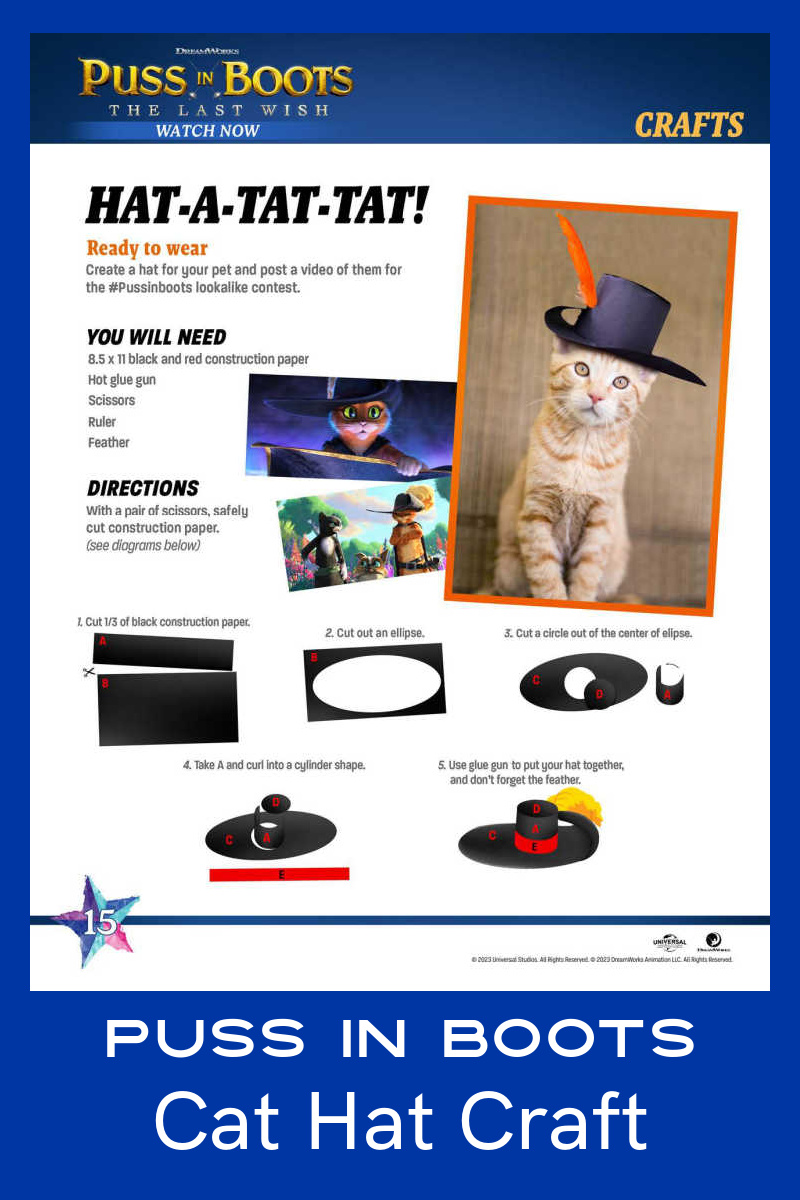 Free Printable Craft Activity Page
How to Make a Puss in Boots Hat for Your Cat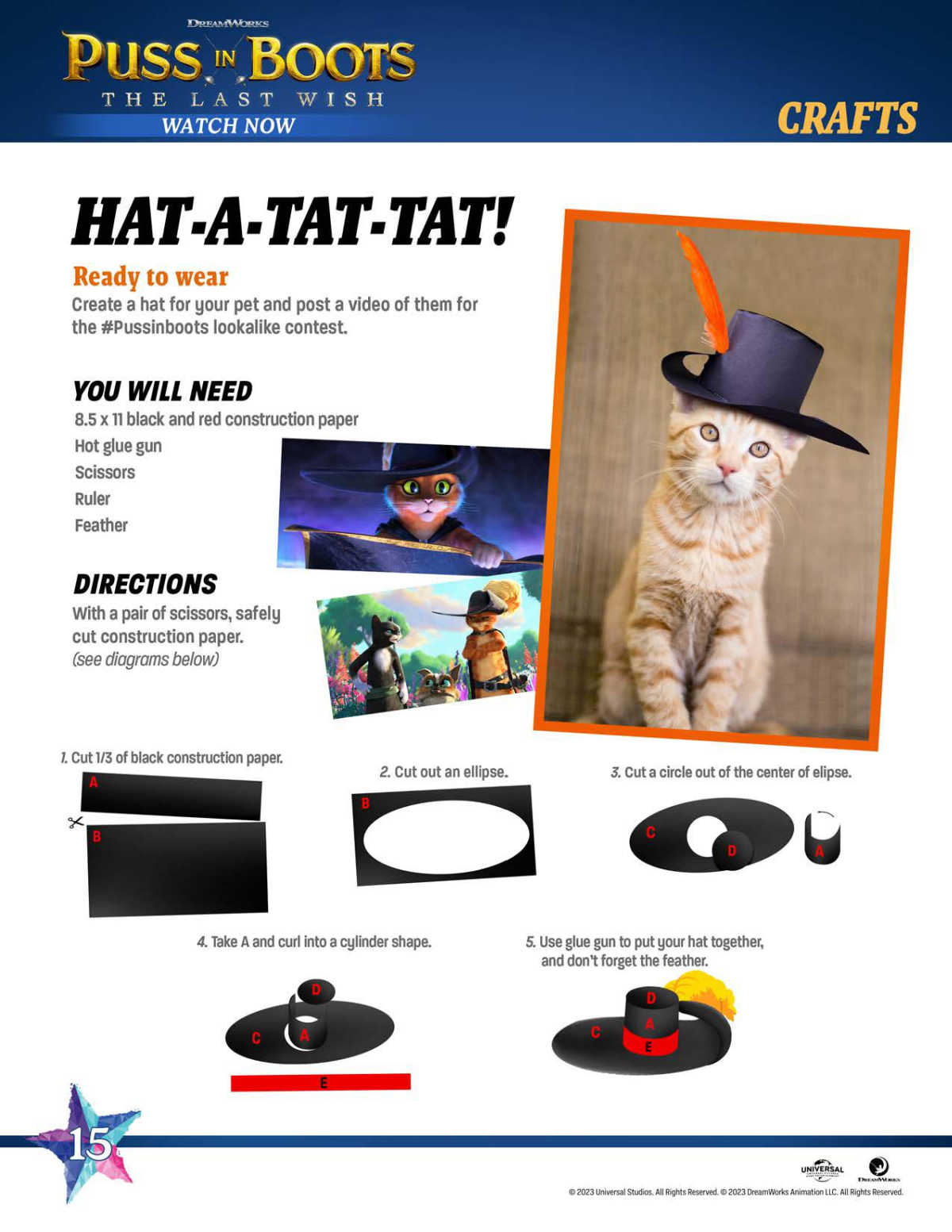 Make this cute cat hat craft, so your kitty can play dress up and pretend to be the hilarious and adventurous Puss in Boots.
Of course, if you have a dog there is nothing wrong with a pup pretending to be Puss to try to win the Puss in Boots look alike contest.
Cat Hat Craft
Supplies
8 1/2″ x 11″ Black Construction Paper
8 1/2″ x 11″ Red Construction Paper
Hot Glue Gun
Scissors
Ruler
Feather
Instructions
1) Use the instruction sheet as a guide. Cut 1/3 of the black construction paper.
2) Cut an ellipse from the larger piece of black construction paper.
3) Then cut a circle out of the ellipse.
4) Use the smaller strip of black paper to form a cylinder shape.
5) Make your hatband by cutting a strip of red construction paper.
6) Use hot glue to assemble your cat's hat.
Click HERE to download the free printable cat hat craft activity page, so that you and your family can make a Puss in Boots hat.
Regular copy paper is ok to use, when you print this pdf.
You can also use cardstock, if you want it to last better.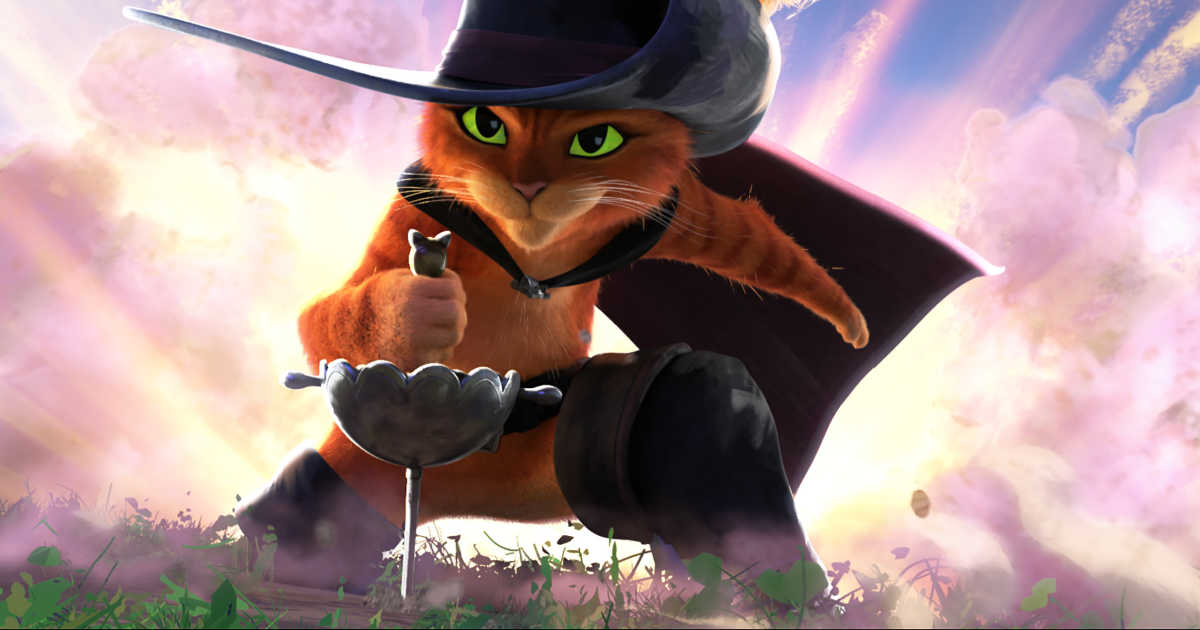 DreamWorks Animation
Rated PG
Release Date 2/28/23
Synopsis
Everyone's favorite leche-loving, swashbuckling, fear-defying feline returns in a new adventure from the Shrek universe as the daring outlaw discovers that his passion for adventure and heroic missions have taken their toll.
Puss has burned through eight of his nine lives, though he lost count along the way.
Getting those lives back will send Puss into the Black Forest to find the mythical Wishing Star on his grandest quest yet.
With only one life left, Puss is forced to humble himself and ask for help from his former partner and nemesis: Kitty Softpaws.
They are joined in their journey by a chatty and cheerful mutt named Perrito.
Together, our trio of heroes will need to stay one step ahead of the fairy tale realm's craftiest crooks including Goldilocks and the Three Bears.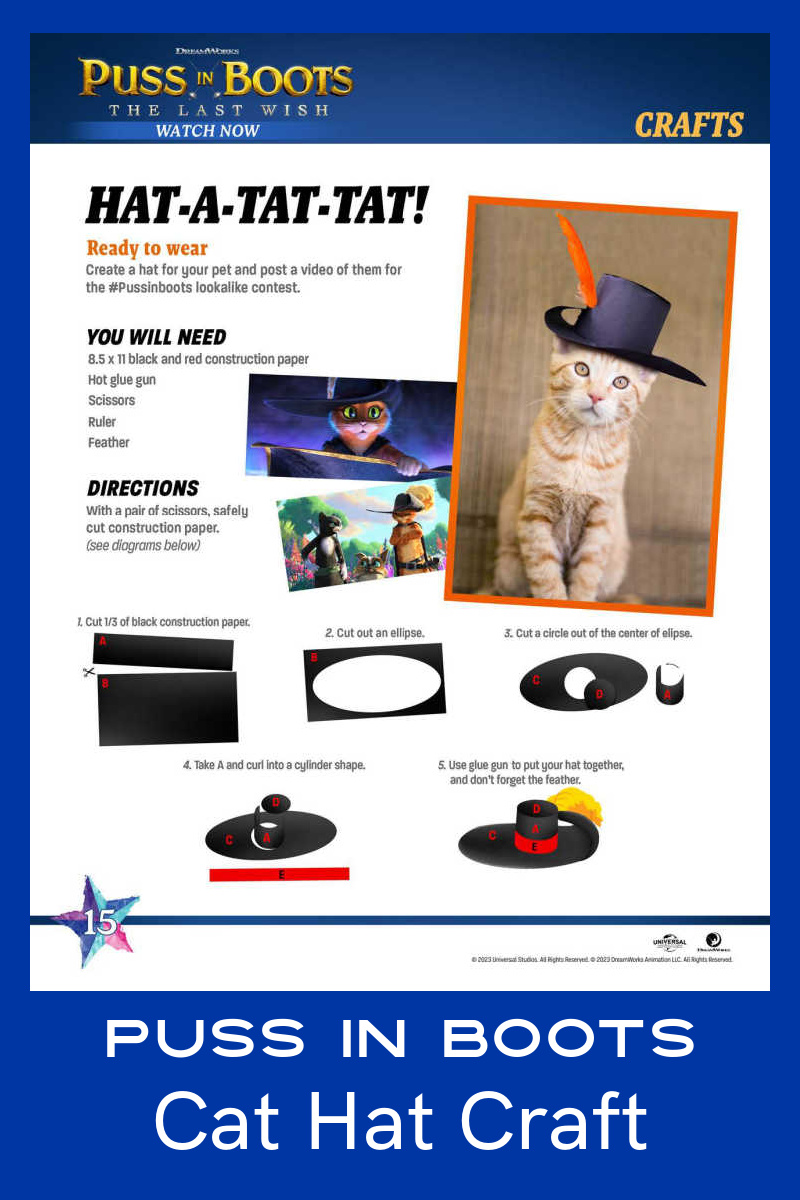 More from Mama Likes This
Take a look at my other entertainment articles, so you can keep up with the latest TV, movie and book news.
Puss in Boots Crafts
Puss in Boots Activity Pages
Recipes from Puss in Boots
Shrek Printables
Free Cat Printables
Printable Activity Pages
For year round fun, take a look at the rest of my free printables.
Many are from Disney, Netflix and Shout Factory, so they feature movies, TV series and characters that your kids already know and love.
Some are educational and some are just plain fun. There are coloring pages, crafts, word puzzles, mazes, memory games and other family friendly activities.
Shop Now
Check out the latest online deals, so you can save money and pick out some great products for yourself and your family.
What will you buy first?