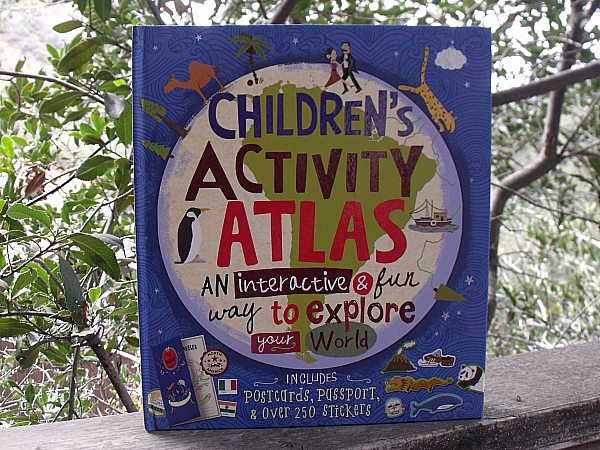 When I was growing up, I had a globe in my room. I loved to learn about the countries and see how they all fit together. If this book had been published a few decades ago, I know I would have loved it.
The Children's Activity Atlas from Sterling Publishing is a hardcover book that will keep kids entertained while expanding their minds.
There are beautifully illustrated maps divided into sections (North America, South America, Northern Africa, Southern Africa ….). Kids will see where cities and rivers are located and learn about noteworthy places in each area (Eiffel Tower, Stonehenge, Great Wall of China…) along with wildlife and important cultural contributions of the different parts of the world.
The book includes stickers of flags and other items to be placed on the maps. There is also a pocket inside the front cover with postcards and a passport.
The book is recommended for Kindergarten to 3rd grade. A small child will need help with the reading and the book can definitely be enjoyed by older kids as well. The activities can be done just for fun or the book can be used to help with homework or as part of homeschool curriculum.
Children's Activity Atlas

by Jenny Slater
isbn 978-1454913207
Pub. date 8/5/14
Description: "Young explorers: grab your ticket to a world of fun! Featuring 12 fully illustrated maps, this atlas is jam-packed with information about the different continents and each region's wildlife, food, architecture, and culture. The journey continues with more than 250 reusable stickers, eight perforated postcards, and a pocket-size passport with quizzes and cool facts. Curious kids will dream about their adventures to come."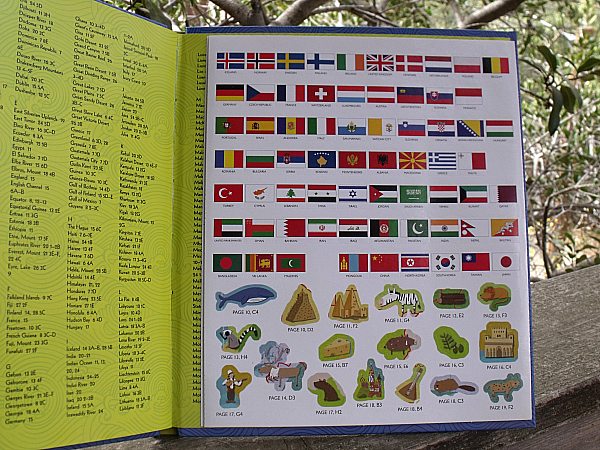 Enter daily through the Rafflecopter form below: