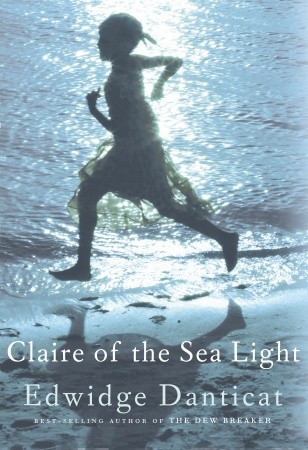 Claire of the Sea Light is a beautifully written, mesmerizing novel. The story shifts back and forth between past and present with each section helping to piece the story together.
Edwidge Danticat is an award winning author. This was my first time to experience her gifted writing, but you may be familiar with her other books that include Brother, I'm Dying, Breath, Eyes, Memory, Krik? Krak! and The Farming of Bones.
Life is not easy for the characters in Claire of the Sea Light. In addition to personal tragedy, the hard work and impoverished lifestyle make daily living difficult. Claire carries the loss and burden of knowing that her mother died giving birth to her. Claire's father now struggles with the loss and with trying to make the best decisions for Claire. I would not want to be in either of their positions.
Claire of the Sea Light

by Edwidge Danticat
isbn 978-0-307-27179-2
Pub. date 8/27/13
Description: "Claire Limyè Lanmè—Claire of the Sea Light—is an enchanting child born into love and tragedy in Ville Rose, Haiti. Claire's mother died in childbirth, and on each of her birthdays Claire is taken by her father, Nozias, to visit her mother's grave. Nozias wonders if he should give away his young daughter to a local shopkeeper, who lost a child of her own, so that Claire can have a better life. But on the night of Claire's seventh birthday, when at last he makes the wrenching decision to do so, she disappears. As Nozias and others look for her, painful secrets, haunting memories, and startling truths are unearthed among the community of men and women whose individual stories connect to Claire, to her parents, and to the town itself."
The book is full of heartfelt emotion and causes the reader to wonder what they would do, if their lives were like those of the people we are introduced to in Claire of the Sea Light.
Enter daily through the Rafflecopter form below: