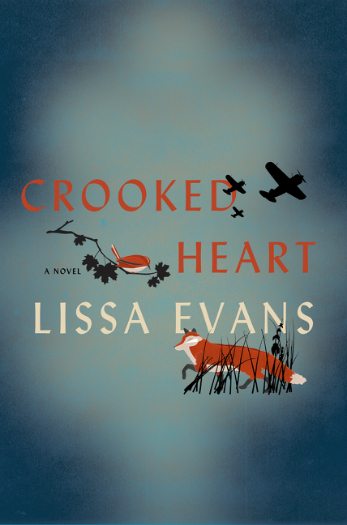 Are you ready for an entertaining black comedy? When done right, this genre with odd characters and twisted situations can be lots of fun.
Crooked Heart is a well written dark comedy set in London during World War II. A clever orphan and a desperate widow form an unlikely bond that brings out the best (worst?) in them. The duo schemes and puts plans into action that lead them into dangerous situations.
Lissa Evans has published several other award winning novels in the UK. This is her first book to be published in the United States.
Crooked Heart is a fun read. Lissa Evans keeps the story moving and it's hard to put the book down.
Crooked Heart

A Novel
by Lissa Evans
isbn 9780062364838
Pub. date 7/28/15
Description: "When Noel Bostock—aged ten, no family—is evacuated from London to escape the Nazi bombardment, he lands in a suburb northwest of the city with Vera Sedge—a thirty-six-year old widow drowning in debts and dependents. Always desperate for money, she's unscrupulous about how she gets it. Noel's mourning his godmother Mattie, a former suffragette. Wise beyond his years, raised with a disdain for authority and an eclectic attitude toward education, he has little in common with other children and even less with the impulsive Vee, who hurtles from one self-made crisis to the next. The war's provided unprecedented opportunities for making money, but what Vee needs—and what she's never had—is a cool head and the ability to make a plan. On her own, she's a disaster. With Noel, she's a team."
SOCIAL MEDIA – You can connect with Harper Collins on Facebook and Twitter.
Enter daily through the Rafflecopter giveaway form below: