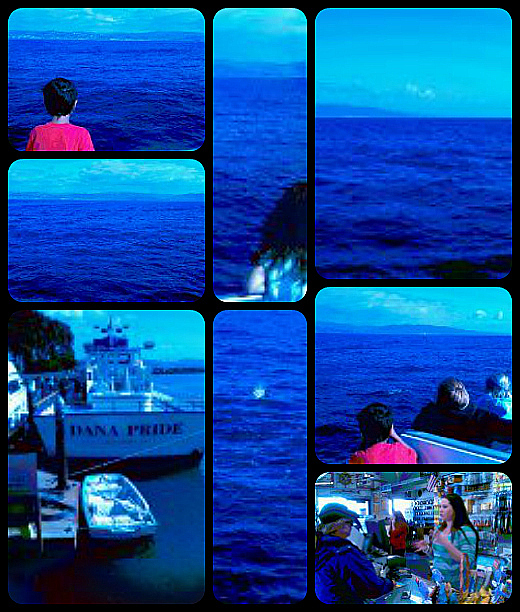 Dana Wharf Whale Watching
34675 Golden Lantern
Dana Point, California 92629
(949) 496-5794
We parked in the complimentary four hour parking accessible to restaurants and the Dana Pride ticket office. The kids bought a water proof disposable camera and we tried on a few t-shirts and hoodies. The office staff were informative and helpful, not to mention very patient to facilitate the questions the kids had for them before even boarding the vessel.
We boarded the boat in an timely efficient manner and the captain and crew were ready to greet all the passengers. As we headed out to see the captain described what we were doing and what we might expect to see given the time of year and local, current sightings. We were off and ready!
The kids explored the boat and found some new friends while we relaxed on the very clean upper deck in the sun, with snacks bought with cash only from the downstairs galley. Be sure to bring money as this is a cash only service.
The first water creatures we saw were the many pelicans and Gulls. We were next blessed with a pod of dolphins swimming happily in our wake, a few of them putting a grand show of flips and dips, twists and turns. They were beautiful!
Twenty minutes or so later, we were able to see our first fin whale, which was said to measure approximately 80ft. According to the captain, the blue whales, which are scarce in number are rebreeding with fin whales creating new species. Unfortunately this indicates that the Blue whale is also reducing even more in number and there may be fewer seen in years to come.
The trip was well worth the ticket price. Not only was it fun, as we all learned a lot about marine biology and were entertained at the same time. To entice us even more, they talked up their special rates and offered us a deal for the next visit.
The kids were delighted by this and cannot wait to go on the next sea adventure!
~Emily received complementary whale watching tickets to facilitate this review.~
CONNECT – You can like Dana Wharf on Facebook and follow them on Twitter.