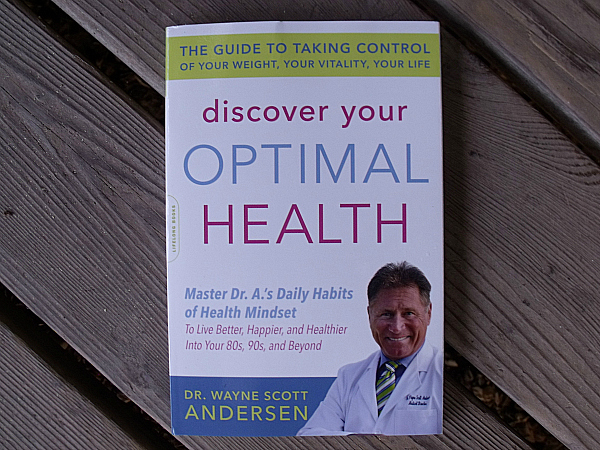 Dr. Wayne Scott Andersen wants to help us 'live better, healthier and happier." This isn't a one size fits all approach. He understands that we are individuals and wants to help us be our personal best.
Discover Your Optimal Health is a motivational pep talk that can encourage people without health issues and those of you who are in the midst of some sort of health crisis. It's not just 'fluff.' The book is filled with solid facts and practical instructions and tips to help you implement them.
The book will help you shift your way of thinking about health. Certainly, we need to deal with crises when they occur, but we should all learn to practice healthy habits before damage is done.
There are five types of healthy habits that he can help us develop:
Healthy Weight Loss

Healthy Eating

Healthy Motion
Healthy Sleep
Healthy Mind
Turning these good behaviors into habit can greatly increase the quality of our lives!
Discover Your Optimal Health

The Guide to Taking Control of Your Weight, Your Vitality, Your Life
by Dr. Wayne Scott Andersen
isbn 978-0738217000
Pub. date 7/9/13
Synopsis: "Go from surviving to thriving! Anyone who has ever lost weight only to ultimately gain it back will benefit from this life-changing breakthrough program that shows you not only how to reach and maintain your healthy weight, but how to create a life of renewed vibrancy and become as healthy as you can. Thousands of people worldwide have gone from discouragement to confidence by following this easy-to-use guide by "Dr. A," one of America's most esteemed and compassionate practitioners of weight loss and optimal health. Discover Your Optimal Health teaches you how to live better, happier, and healthier into your eighties, nineties, and beyond."
Enter daily through the Rafflecopter form below: