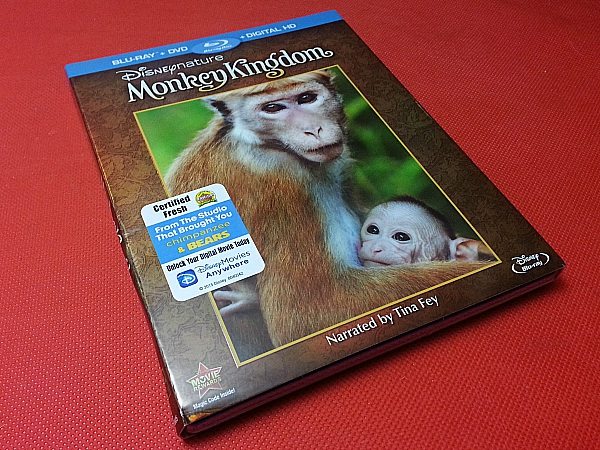 Walt Disney had love and a deep respect for nature, as evidenced by the animal movies I loved to watch on TV on The Wonderful World of Disney in the 1960s and 70s. In 2008 Disneynature was launched to create new movies to educate, inspire and support conservation efforts.
Monkey Kingdom is the latest release in the series. Once again, I am amazed at the skill of the production crew and their ability to get close enough to document the story of the animals. It's magical!
The movie almost feels as if it were all planned and scripted ahead of time, but these are animals who were filmed naturally. The relationships, struggles and joys they experience are amazing.
Tina Fey does a fantastic job narrating this true life adventure.The movie is rated G and great for adults and children.
Click HERE for Monkey Kingdom crafts and activities.
Disneynature:
Monkey Kingdom

2-Disc Blu-ray Combo Pack
Rated G
Release date 9/15/15
Synopsis: "From Disneynature, the studio that brought you Chimpanzee and Bears, comes MONKEY KINGDOM, a spectacular tale set among ancient ruins in the storied jungles of South Asia. Maya, a clever and resourceful monkey, finds her world forever changed when she welcomes her son Kip into her colorful extended family. As Maya strives to keep Kip safe through unexpected and sometimes perilous adventures, amazing footage captures all the magic and surprises of their magnificent world. Maya and her family will make you laugh and warm your heart as she realizes her dreams for her son's future."
Enter daily through the Rafflecopter giveaway form below: