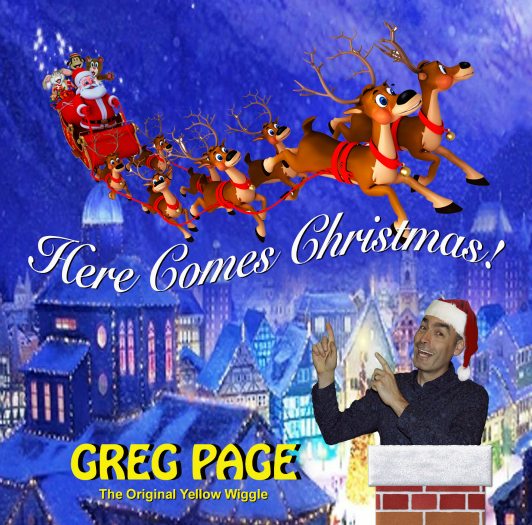 Christmas is in the air!
Music is always an important part of the holiday season. This is a time when family members of all ages can enjoy family friendly children's music.
The new Here Comes Christmas CD from Greg Page will be a great new addition to your holiday music rotation.
Does the name Greg Page sound familiar? If not, you'll probably know him by his alter ego. He was the original "Yellow Wiggle" for the popular group The Wiggles and has performed with them for years.
Greg clearly knows how to entertain children! He's won numerous awards and was even knighted in Australia by The Order of Australia for his service and contributions to the arts as a children's entertainer.
Here Comes Christmas
Greg Page – The Original Yellow Wiggle
Release date 11/24/15
There are 26 songs on the CD, old familiar carols and some new music.
Here Comes Christmas
Christmas Bells
It's Christmas
Santa Claus is Coming to Town
Jingle Bells
Let It Snow
Rudolph The Red Nosed Reindeer
Winter Wonderland
Little Drummer Boy
The Christmas Song
Frosty The Snowman
Jingle Bell Rock
Dominick The Donkey
White Christmas
Silent Night
Silver Bells
Feliz Navidad
Have Yourself a Merry Little Christmas
I Saw Three Ships
The Twelve Days of Christmas
O Come All Ye Faithful
We Wish You a Merry Christmas
Bonus: At The Fire Station
Bonus: Everybody Dance
Bonus: Get Down Low and Go, Go, Go
Bonus: Knead It
Enter daily through the Rafflecopter giveaway form below: