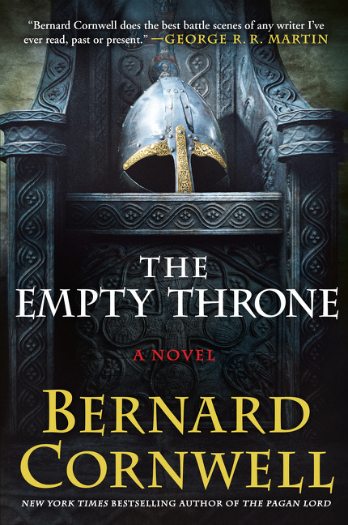 Are you a fan of historical fiction?
Bernard Cornwell is an expert at bringing history to life. The battle scenes are vivid and he enables us to understand the motivations and actions of those involved. He can make you feel like you are right there experiencing it all alongside the characters in his books.
This is the 8th novel in his Saxon Tales series. If you haven't read any of the others, you'd still be able to jump right in with this one. However, you may need to go back and read the others once you're hooked.
The story is complex and detailed, but read quickly and was surprisingly easy to get caught up in it.
The Empty Throne

A Novel
by Bernard Cornwell
isbn 978-0062250711
Pub. date 1/6/15
Description: "Britain, early tenth century AD: a time of change. There are new raids by the Vikings from Ireland, and turmoil among the Saxons over the leadership of Mercia. A younger generation is taking over. The stage is set for rivals to fight for the empty throne. Uhtred is still suffering from the wounds he received in battle. To recover his strength he needs to find the sword that caused the injury, but lost amid the battle's blood and mud, how could it be traced and who among the Vikings or Saxons might be holding it? In the end it is one champion, one hero, who will destroy the new Viking threat to Mercia and ultimately decide the fate of England."
Enter daily through the Rafflecopter giveaway form below: