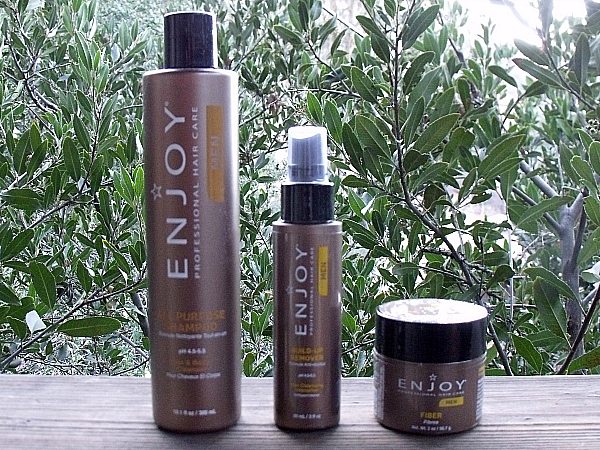 Have you used ENJOY Haircare Products? I have been using the high quality salon products for years and have been pleased with the way they clean, condition and style my hair.
When I heard that ENJOY had a new line of professional hair products for men, I knew my guys would want to try them out. Their hair needs are different than mine, so it makes sense that they would need a different arsenal of products.
The All Purpose Shampoo has a light and natural manly scent. It gets dirty hair clean and adds moisture without weighting down the hair.
The Build Up Remover is a once a week (or so) spray used to deeply cleanse. It will take care of product build up or other gunk and grime. It's also great for athletes whose hair is exposed to chlorine, salt water, sweat and other grime.
The men's collection offers five different styling aids. Each one is rated for hold and shine. I correctly chose the one with the most hold for my guys.
Fiber gives definition with a strong hold and a shine that doesn't look "plastic." One of my son uses it to create a fantastic curl in his handlebar mustache. The other uses it to make his hair stand up. We've tried a whole lot of products over the years and this one is definitely exceptional. It literally takes them just a couple of seconds to style and the hair stays put exactly how they want it.
ENJOY MEN haircare products work as advertised. I am impressed!
SOCIAL MEDIA – You can connect with ENJOY on Twitter, Facebook and Pinterest. You can use the store locator to find a salon that carries ENJOY.
Enter daily through the Rafflecopter form below: