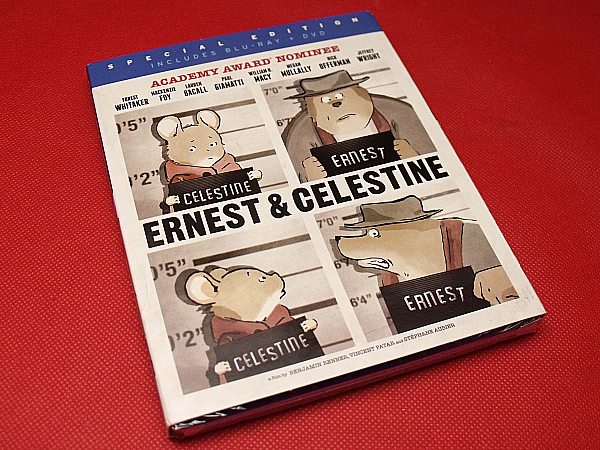 Ernest and Celestine is a wonderful, heartwarming animated movie!
This is the story of a big, gruff bear and a sweet, little mouse. This unlikely duo form a deep and loving bond despite the fact that the other bears think mice should be eaten and the other mice think bears are frightening. They look beyond their obvious differences and become great friends who enjoy each other's company and accept one another as they are. They don't let others sway their opinions and make a solid stand against bigotry.
The movie was originally made in France and released in French. This new English version features many recognizable voices – Forest Whitaker, William H. Macy, Megan Mullally, Lauren Bacall and others.
The story is based on a book series by Belgian author Gabrielle Vincent. The animation style works perfectly for the movie and makes it feel like a book that has been brought to life.
Ernest & Celestine

2 Disc Blu-ray DVD Combo Pack
Rated PG
Release date 6/17/14
Synopsis: "Deep below snowy, cobblestone streets, tucked away in networks of winding tunnels, lives a tiny mouse named Celestine. Unlike her fellow mice, Celestine is an artist and a dreamer, and has a hard time fitting in. When she nearly ends up as breakfast for a grumpy bear named Ernest, the two become fast friends and embark on an adventure that will put a smile on your face and make your heart glow."
Enter daily through the Rafflecopter form below: