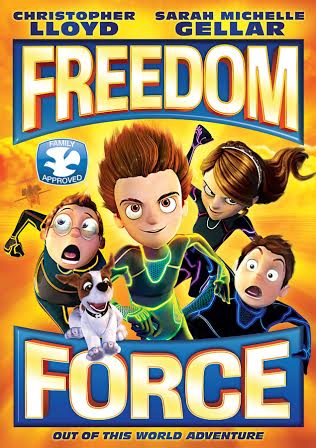 Are you ready for adventure?
Freedom Force is a fun animated movie that takes it's inspiration from author Jules Verne. Much like his novels, this feature will take viewers on an exciting and imaginative journey that goes beyond what is possible in our world.
The movie features some famous and recognizable voices – Christopher Lloyd and Sarah Michelle Gellar. They do a great job of bringing this tale to life.
The Dove Foundation has awarded the movie their 'Family Approved' seal. It is rated PG and probably not for little ones who may not understand the story. The complex storyline and adventure are probably best for older kids, teens and even adults.
Freedom Force DVD
Vertical Entertainment
Rated PG
Release date 11/15/13
Synopsis: "A devious plot is under way to alter the writings of famed author Jules Verne to change the course of history! Accompanied by their trusted dog, a group of kids – unlikely heroes, but with special talents – are sent back in time to restore the beloved stories and secure their rightful place in history. Their adventure takes them to the darkest jungles and cities deep under the sea … even to outer space! But the mission goes horribly awry when a mad scientist tries to stop them. Faced by colossal challenges along the way – including cannibals, runaway hot air balloons and a giant octopus – they struggle to set the record straight and save the world from chaos … While not mixing up anything as they go!"
Enter daily through the Rafflecopter form below: