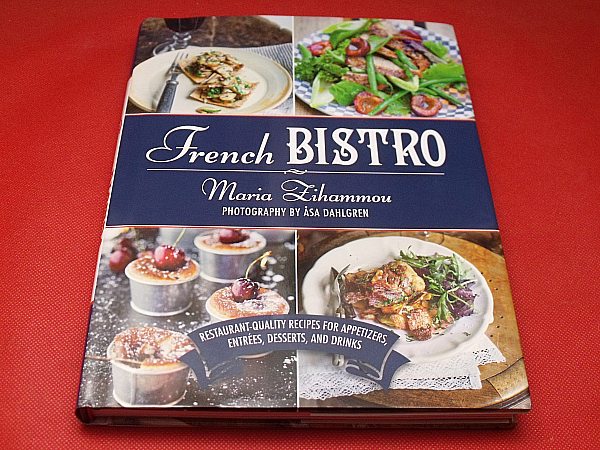 Doesn't the cover of this cookbook look delicious?
In French Bistro, Maria Zihammou teaches us how to make restaurant quality French food at home. This is a type of cooking that can seem intimidating to those of us who do not have a culinary degree, but she breaks it down with simple instructions that are easy to follow.
The recipes use lots of fresh ingredients, as I expected. She also includes brief introductions to each recipe that add warmth and and give the reader insight into French food and culture. The photographs are absolutely stunning. This is the kind of cookbook that is fun to browse even when you're not planning on cooking.

French Bistro

Restaurant-Quality Recipes for Appetizers, Entrées, Desserts, and Drinks
by Maria Zihammou
isbn 978-1628736458
Pub. date 10/7/14
Description: "The corner bistro offers all the highlights of French cuisine: crepes, bouillabaisse, ratatouille, and beef bourguignonne—all with rustic flair, simple ingredients, and impeccable flavors. Now, with Maria Zihammou's French Bistro, you can cook up the authentic tastes of France in your own kitchen. Each recipe shows how intricate meals steeped in culinary tradition can be re-created with simple techniques using modern ingredients and equipment. This is a tribute to proper French cuisine."
Here are a few of the recipes that are included in the cookbook:
Fresh Cheese with Honey and Apricot
Asparagus with Egg and Lemon
Lemon Roasted Chicken
Warm Goat Cheese Salad with Apple
Almond Tart with Pears
Enter daily through the Rafflecopter form below: