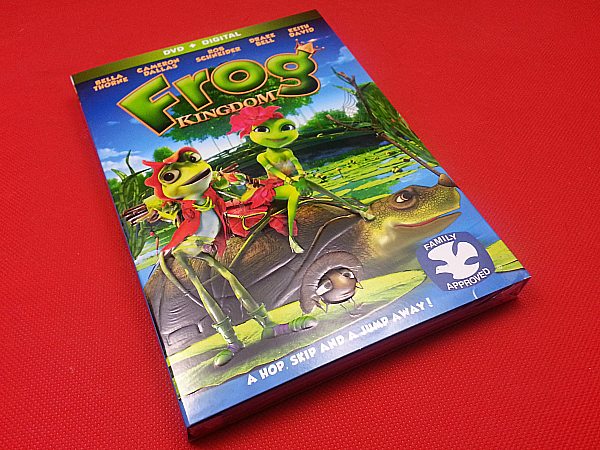 Are you ready for some animated fun with adorable frogs and a good message?
Frog Kingdom is here!
This is a feel good movie with lots of laughs. Kids will feel empowered to follow their hearts and do what's right even when it seems difficult.
The movie features the vocal talents of recognizable voice actors – Bella Thorne, Rob Schneider, Drake Bell and others. They do a great job of bringing the characters to life.
The animation style is fun and a bit different. The long legged frogs are ready for human-like action. The DVD includes the Ultraviolet Digital version of the movie and some entertaining bonus features.
Frog Kingdom is rated PG, but seems more tame than most children's TV programs. It also has the Dove Family Seal indicating that it is, indeed, family friendly.
Frog Kingdom

Lions Gate
Rated PG
Release date 6/30/15
Synopsis: "When The Frog King announces that the winner of the Froglympics will win his daughter's hand in marriage, Princess Froglegs runs away instead. Disguised as a commoner, the Princess befriends street vendor, Freddie, and begins training with him for the games—determined that she will win and thwart her father's plans of marriage. Meanwhile, the villainous serpent has ideas of his own to ruin the Froglympics and take over the kingdom. With a little luck, and a little help from their trusty sidekick Captain One-Eye, Freddie and Princess Froglegs set out to save Frog Kingdom from the evil serpent."
Enter daily through the Rafflecopter giveaway form below: