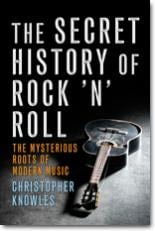 The Secret History of Rock 'n Roll
The Mysterious Roots of Modern Music
by Christopher Knowles
isbn 978-1-57344-405-7
Pub. date 10/5/10
Description: Sex. Drugs. Loud music. Wild costumes. Dazzling light shows. These sights and sounds all describe a great rock concert or a hot dance club; but they were also part and parcel of the ancient cultural phenomenon known as the "Mystery religions," whose rites often made Lollapalooza look like a church picnic.
The Secret History of Rock 'n' Roll picks up where other rock histories leave off. It tells the story of the Mysteries—their rise, fall, and eventual rebirth in the New World, where rhythms and melodies from the West African and the Celtic diasporas collided with the sound of popular music forever. You'll meet history's first pop divas, headbangers and guitar heroes, and learn the true story of the Puritan Woodstock
The Secret History of Rock 'n' Roll also traces the development of rock's most popular genres, such as punk and heavy metal, and explains why stars like Jim Morrison were called "modern Dionysians." You'll learn why rock legends, like The Rolling Stones, The Beatles and Led Zeppelin, mixed gurus and gods with guitars and groupies. And you'll see how Deadheads, PhishHeads, and many of rock's other great cults are simply folllowing in their ancient ancestors' footsteps. Get ready for a wild ride that will take you from the Stone Age to the Space Age.
I've read many rock history books that look back over the last few decades. This one goes back thousands of years.
The book is very interesting from an historical perspective and from a modern perspective. He includes details on rockstars that I'm familiar with and links the past and present together. The analysis is fun!
The Secret History of Rock 'n' Roll would make a good gift for a rock fan. I also think this would lead to some very interesting book club discussions.
HOW TO CONNECT – You can like Viva Editions on Facebook.
PRIZE – Viva Editions would like to give The Secret History of Rock 'n' Roll to **2** of you (ARV $16.95)
Here's what ya gotta do to enter to win ….
***MANDATORY ENTRY: Leave a comment – just say something nice! ***
Optional Bonus Entries: (must do main entry first- post a separate comment for each bonus entry)
* Fan the Sweeps4Bloggers Facebook Page
* Subscribe to Sweeps4Bloggers by email (green sidebar button)
* Subscribe to Sweeps4Bloggers by reader (Orange sidebar button)
* Post my button on your blog and comment with the link
* Follow Sweeps4Bloggers on Twitter
* Tweet about the giveaway and comment with the link to your tweet (you may TWEET DAILY for 1 bonus entry each day)
* Post on your blog/website about the giveaway and comment with the link (5 entries)
* Check out Giveaways4Prizes today – either add one of your giveaways to a linky or look at a giveaway that's listed (2 entries, leave 2 comments)
* Like Viva Editions on Facebook (2 entries, leave 2 comments)
* Enter the Dave's Gourmet giveaway (ends 6/5)
* Enter another current Sweeps4Bloggers giveaway and let me know which one you entered (enter as many as you'd like, but only 1 bonus entry)
Giveaway ends June 6, 2011 at 8pm Pacific Time. Giveaway is open for residents of the US only. Winner will have 48 hours to respond to notification with shipping info and claim prize – if no response, another winner will be chosen . Subject to the official rules. No purchase necessary – void where prohibited by law. Disclaimer/Disclosure: Review sample and prize provided by the giveaway sponsor.