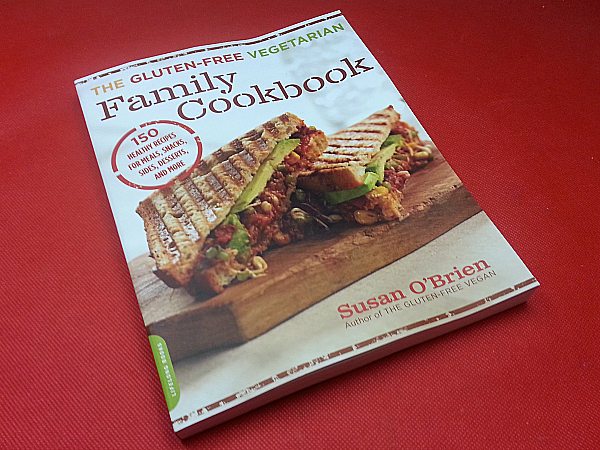 In the past, it seemed like it was a rarity to have dietary restrictions. These days, we all know people who are gluten free and vegetarian. Even those who aren't totally vegetarian may practice meatless Mondays or just cut back on meat for health or ethical reasons.
The Gluten-Free Vegetarian Family Cookbook is filled with recipes that the whole family can enjoy. There is no need to cook separate dishes for each family member. This is balanced comfort food for everyone.
The author, Susan O'Brien, has written several gluten free cookbooks. When she first learned that her body did much better without gluten, there weren't as many food options and resources as there are today. She knew she liked feeling better, so she set about to create satisfying recipes for herself. Now she is happy to share them with others.
Here are a few of the recipes that caught my eye:
Grilled Pesto Stuffed Portobello Mushrooms
Butternut Squash Bread
Cream of Broccoli Soup
Sesame Noodle Salad
Coconut Macaroons
The Gluten-Free Vegetarian Family Cookbook

150 Healthy Recipes for Meals, Snacks, Sides, Desserts, and More
by Susan O'Brien
isbn 978-0738217482
Pub. date 2/3/15
Description: "When it comes to feeding your family, you want meals that are tasty, nutritious, and simple to prepare. But choosing healthier food options can be a challenge, especially with a special diet, since most store-bought gluten-free and meat-free foods are low in protein and high in simple carbs and sugars. Now, gourmet cook and healthy-eating coach Susan O'Brien has developed easy dishes the whole family can enjoy: 150 breakfasts, soups, salads, entrees, sides, snacks, and desserts made with complex-carb, high-protein ingredients for well-balanced nutrition."
Enter daily through the Rafflecopter giveaway form: