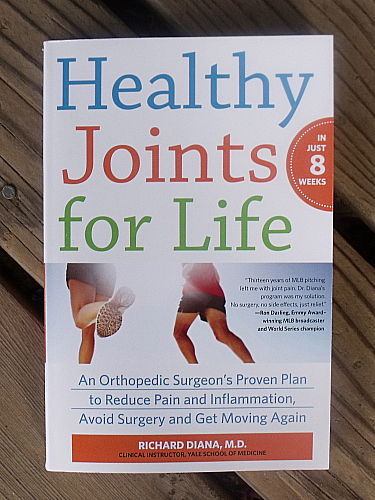 An orthopedic surgeon who is also a former NFL player certainly has a lot of personal and professional experience with joint pain. He has done research and has worked with many patients including professional athletes.
In Healthy Joints for Life, Dr. Richard Diana shares an 8 week program that is designed to improve your joints, so that you can feel better now and in the future. The program doesn't involve surgery or medication. Yes, a surgeon is recommending methods that don't involve surgery!
Sometimes joint pain is due to changes that occur as we age. Other times it can be due to an accident or the stress of strenuous activities or athletics. Much of this pain can be due to inflammation.
Dr. Diana explains which foods and supplements can help decrease inflammation and increase mobility. He also provides information on exercises that can be modified according to your own abilities. For those who like scientific detail and explanations, they are included to help you understand the reasoning behind this program.
Healthy Joints for Life

An Orthopedic Surgeon's Proven Plan to Reduce Pain and Inflammation, Avoid Surgery and Get Moving Again
by Richard Diana, MD
isbn 9780373892709
Pub. date 1/28/14
Description: "In this groundbreaking book, leading orthopedic surgeon and former NFL player Richard Diana, M.D., applies his unique experience and training to tackle join pain. Based on cutting-edge research that has clarified the crucial role of a molecule known as NFkB in regulating inflammation, Dr. Diana's proven eight-week program teaches you to harness the power of this research to reduce inflammation, relieve pain and rejuvenate your joints."
Enter daily through the Rafflecopter form below: