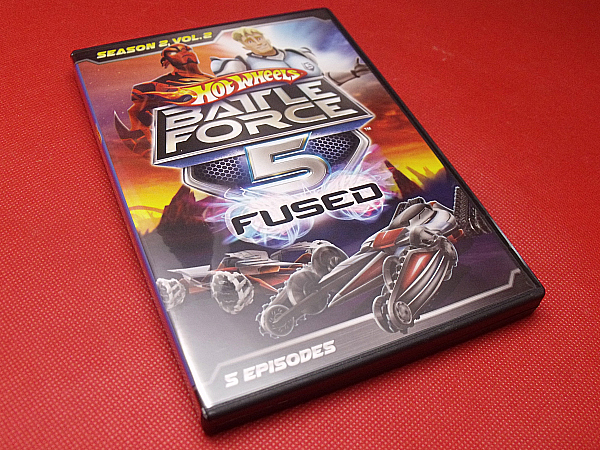 Who likes Hot Wheels? I can remember how much I enjoyed them when I was a kid. The neighbor boys next door had buckets of them along with tracks that we used for racing … and staging crashes. I always wished I had a Hot Wheels collection like theirs. The toys are still great for boys and girls now and kids can also watch the animated shows for a whole new dimension of Hot Wheels fun.
Hot Wheels Battle Force 5, aka BF5, is a high energy animated action show. Regular vehicles transform into powerful battle vehicles that are ready to fight against evil to protect their community. The characters and story are easy for kids to get caught up in. They'll want to watch the action on the DVD and then play out their own adventures with their Hot Wheels.
This DVD is fine, if you haven't seen the previous episodes. But once kids get involved in the story, you may want to get the earlier DVDs for more Hot Wheels fun.

Hot Wheels Battle Force 5

Fused Season 2, Volume 2
Release Date 4/1/14
Synopsis: "While the stakes were high in Season 1, they get even higher in Season 2 as a greater, more dangerous enemy races onto the interdimensional battlefield: the Red Sentients! BF5 is led by Vert Wheeler and a stellar team of teen drivers. Their only goals are to protect their Blue Sentient mentor, Sage, and to destroy the evil twin Red Sentients. Armed with their futuristic arsenal on wheels, the BF5 ride fearlessly into the face of danger protecting Sage, and Earth, from barbaric predators."
Volume 2 includes the last five episodes of Season 2:
The Crimson One

Spawn Hunters
Found … and Lost
Deep Freeze
Lord of the Kharamanos
Enter daily through the Rafflecopter form below: