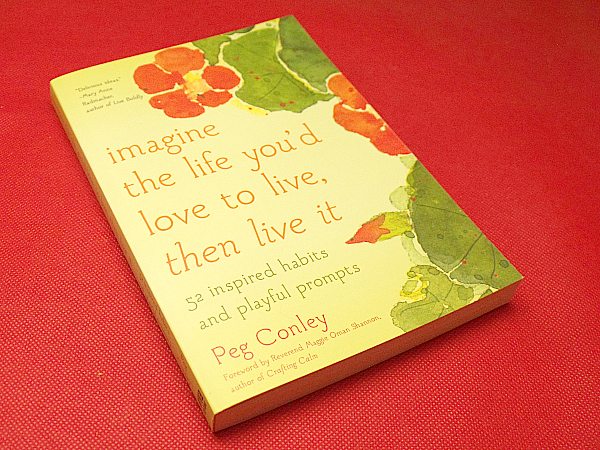 Who wants to have a good life? All of us?
Author Peg Conley wants to help you do just that. She provides step by step instructions to help you Imagine The Life You'd Like to Live, Then Live It.
The book contains 52 chapters, enough for one each week for a year. Each one includes a habit to embrace along with prompts to help you put it into action. There are beautiful floral illustrations and inspirational quotes to help motivate.
It will only take a few moments to read each chapter and then you can reflect on it and put it into practice during the week.
Do you think this can work for you?

Imagine the Life You'd Love to Live, Then Live It

52 Inspired Habits and Playful Prompts
by Peg Conley
isbn 978-1936740871
Pub. date 12/2/14
Description: "Peg Conley has made it her business to make sure we don't let life pass us by, and offers us both baby steps and giant leaps to living the life we've always dreamed of. Peg has been an artist all her life but, like many of us, took a long detour into the corporate world. Art became the thing she did on vacations, weekends and when she could carve time out of her busy life. Something gnawed at her, a nagging feeling that life might hold something else in the midst of it all. Then came a big breakthrough—Peg founded a successful, art-centered company based on the advice of her inner voice: "Imagine the life you want to live, then live it. It's that simple!" "
SOCIAL MEDIA – You can connect with Viva Editions on Facebook and Twitter.
Enter daily through the Rafflecopter giveaway form below: