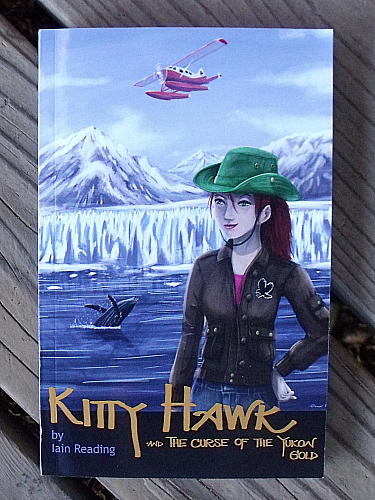 Are you ready for an adventurous heroine? Kitty Hawk of the Flying Detective Agency Series is ready to entertain.
This young adult book is great for teens and adults. Kitty Hawk is free-spirited, quirky, strong and smart. She may not be exactly perfect, but she is definitely a character to look up to. The book has the same appeal as books I enjoyed when I was younger (The Hardy Boys, Nancy Drew…), but she is very much a modern young woman.
I was surprised when I found out that the author of the book is a man. He did an excellent job of creating a young female lead who is very believable.
Kitty Hawk and The Curse of the Yukon Gold is a fun adventure!

Kitty Hawk and the Curse of the Yukon Gold

Book One of the Kitty Hawk Flying Detective Agency Series
by Iain Reading
isbn 978-1492718154
Pub. date 12/3/12
Description: "After leaving her home in the western Canadian fishing village of Tofino to spend the summer in Alaska studying humpback whales, Kitty finds herself caught up in an unforgettable adventure involving stolen gold, devious criminals, ghostly shipwrecks, and bone-chilling curses. Kitty's adventure begins with the lingering mystery of a sunken ship called the Clara Nevada. As the plot continues to unfold, this spirited story will have readers anxiously following every twist and turn as they are swept along through the history of the Klondike Gold Rush to a suspenseful final climatic chase across the rugged terrain of Canada's Yukon."
Enter daily through the Rafflecopter form below: