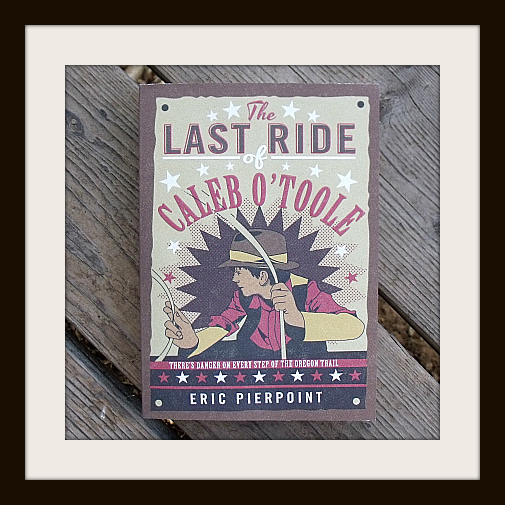 In The Last Ride of Caleb O'Toole, Eric Pierpoint brings the history of the Oregon Trail to life in a personal way. History is much more than just memorizing dates and facts to input into a multiple choice test. History is the people who were involved with those dates and facts. Since the main characters in this fictional story are kids, it makes it very easy for children to identify with them and imagine what it would be like to be traveling the Oregon trail with siblings.
Eric Pierpoint was inspired by his own family history. His family migrated along the Oregon Trail and his great-great-grandmother was born in a covered wagon. This novel is fictional, but his personal ties and passion for the subject are evident.
The book is recommended for ages 9-12. It's full of adventure and exciting to read.
The Last Ride of Caleb O'Toole

by Eric Pierpoint
isbn 978-1402281716
Pub. date 9/3/13
Description: "Caleb O'Toole and his two sisters are left orphaned after a cholera outbreak in their hometown of Great Bend, Kansas. Attempting to fulfill their mother's dying wish, they strike out on a one-horse wagon to travel the treacherous road along the Oregon Trail to the Montana Territory to live with their aunt. Caleb promised to keep his two sisters safe. But safety is thirteen hundred miles away in the rugged Bitterroot Mountains, past the dust-choked deserts, monstrous tornadoes and ravenous wolves of the Oregon Trail. And after witnessing a crime by the infamous Blackstone Gang, Caleb and his sisters have no choice but to brave the dangers of the trail, trying to stay one step ahead of murderous outlaws."
Enter daily through the Rafflecopter form below: