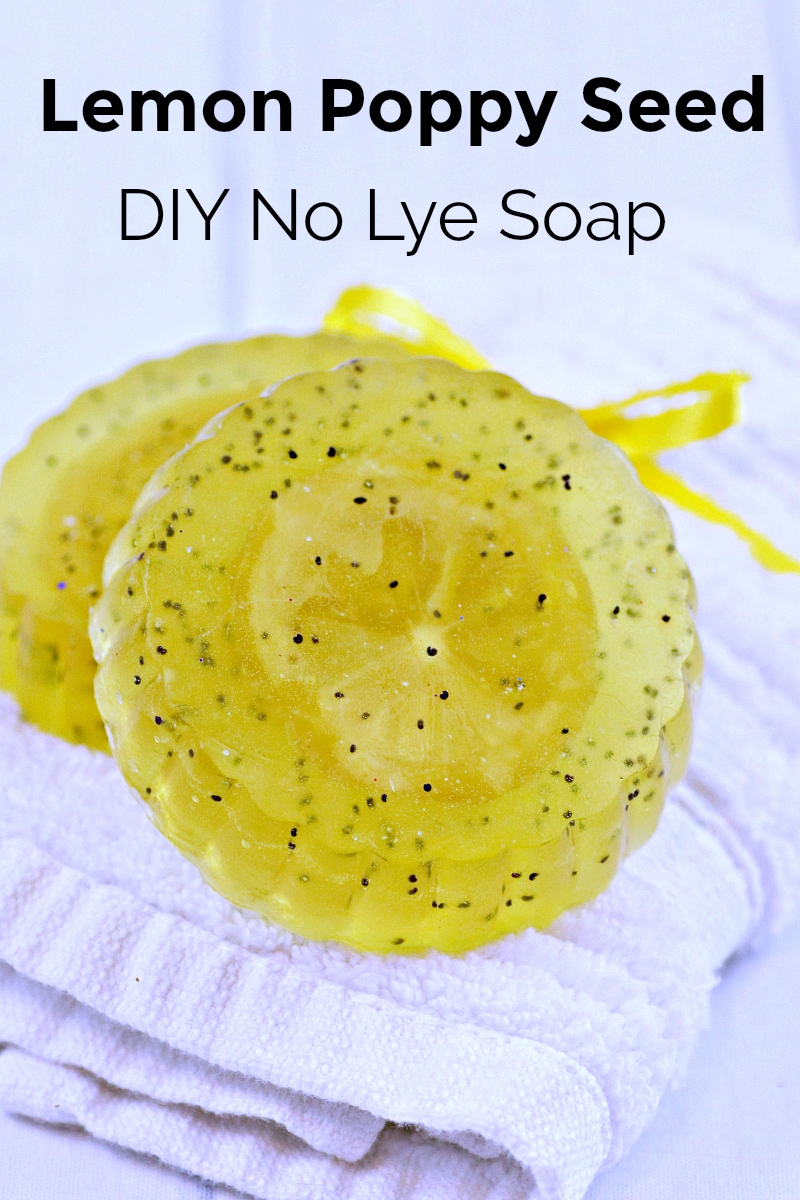 Crafty Gift Idea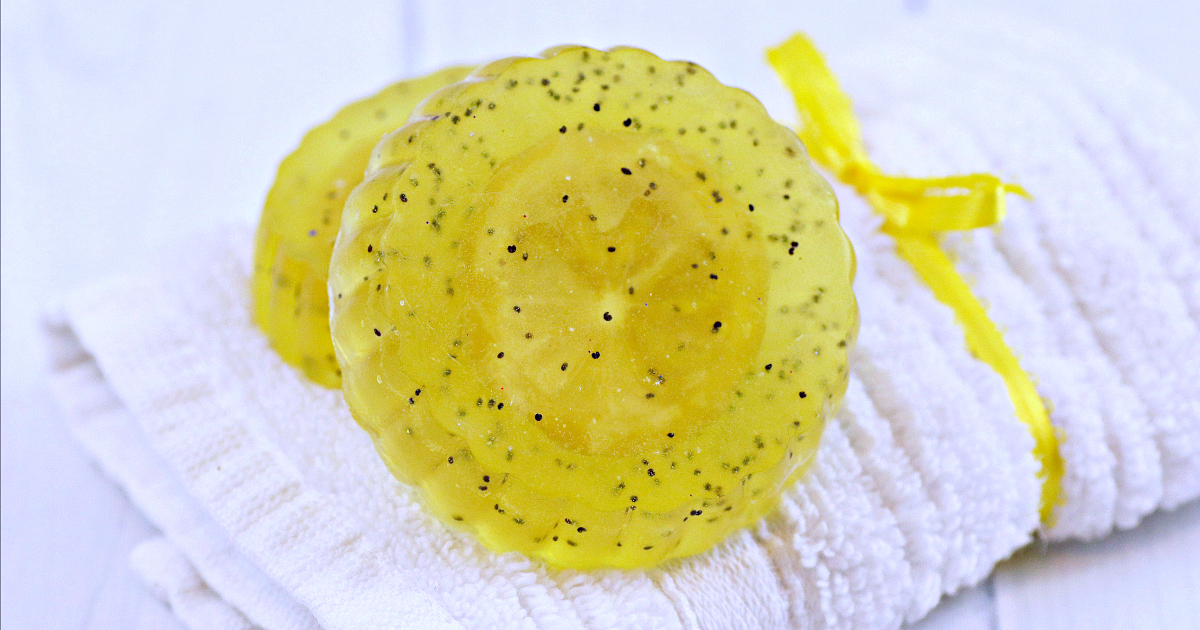 Soap making is a fun and practical craft, so you'll want to try my no-lye lemon poppy seed soap.
It is great to make as a gift, but keeping a few for yourself is a good idea.
The tricky part of making soap with poppy seeds, is that you don't want all of the seeds to clump together and sink to the bottom.
When you use a "suspension" soap base, that problem is solved.
As you can see from these photos, the poppy seeds are nicely dispersed throughout the bar.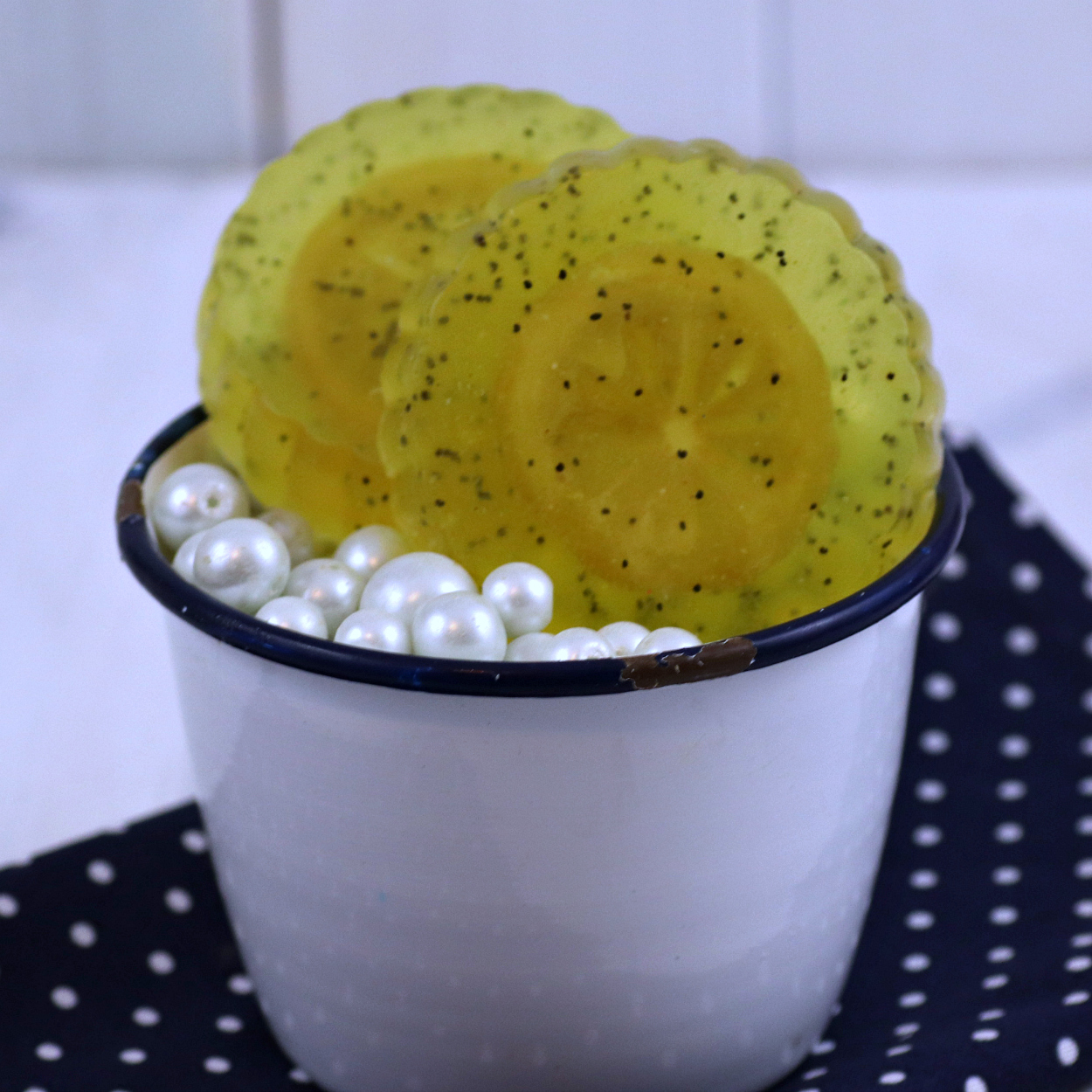 We often see lemon and poppy seed together in food, but these two ingredients also do well for skincare.
Lemons can tighten pores and poppy seeds gently exfoliate.
Additionally, the lemon smells great and the look of the poppy seeds is fun.
Of course, it is also nice to be able to use a soap that wasn't made with lye, harsh chemicals or other questionable ingredients found in some commercially made soap.
The soap is great for people who just like the way it looks and, also, for those who enjoy the way it makes their skin feel.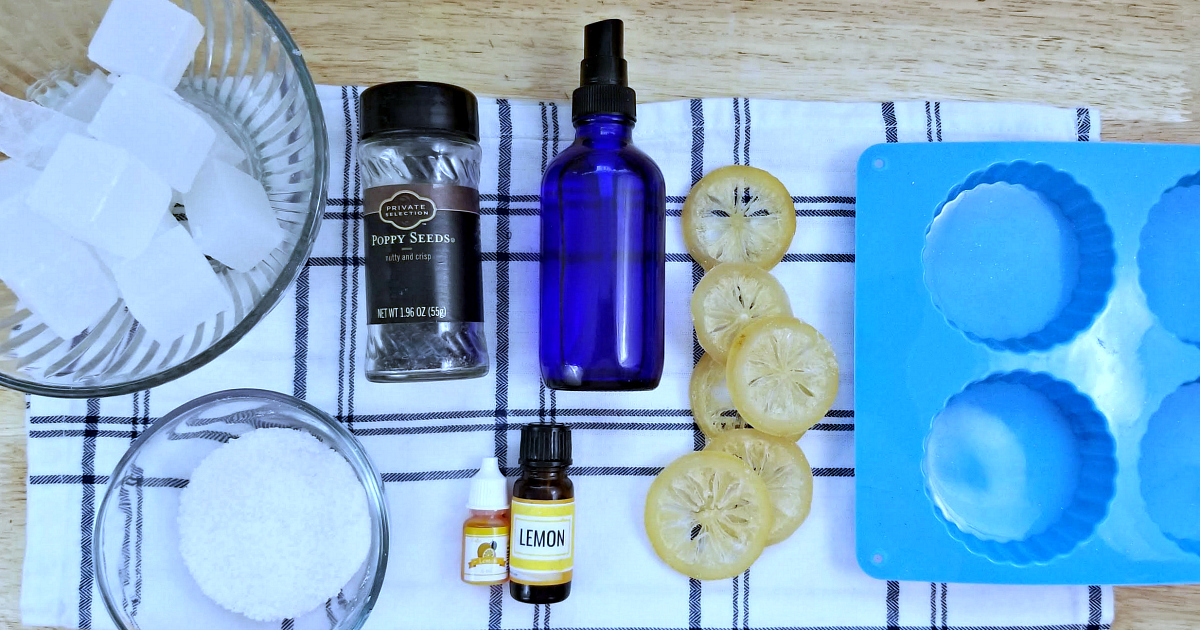 This soap is made from supplies that are easy to acquire.
In fact, you may already have many of them on hand even if this is your first time making soap.
Any silicone mold will work, but I like making a flat, round soap bar.
It is easy to use the soap, and the lemon slice looks nice floating inside.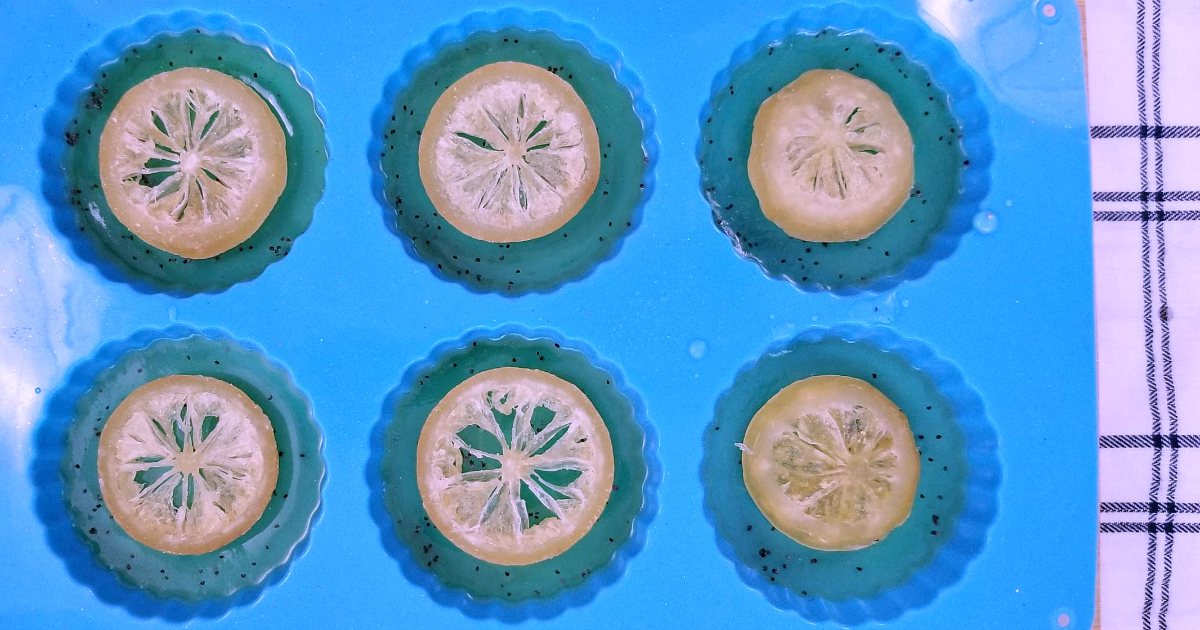 Soap making projects that don't require lye or other harsh chemicals are a fun family activity.
Make the lemon poppy seed soap by yourself or set it up as a group activity.
This would be fun for a tween or teen birthday party or a girls' night in.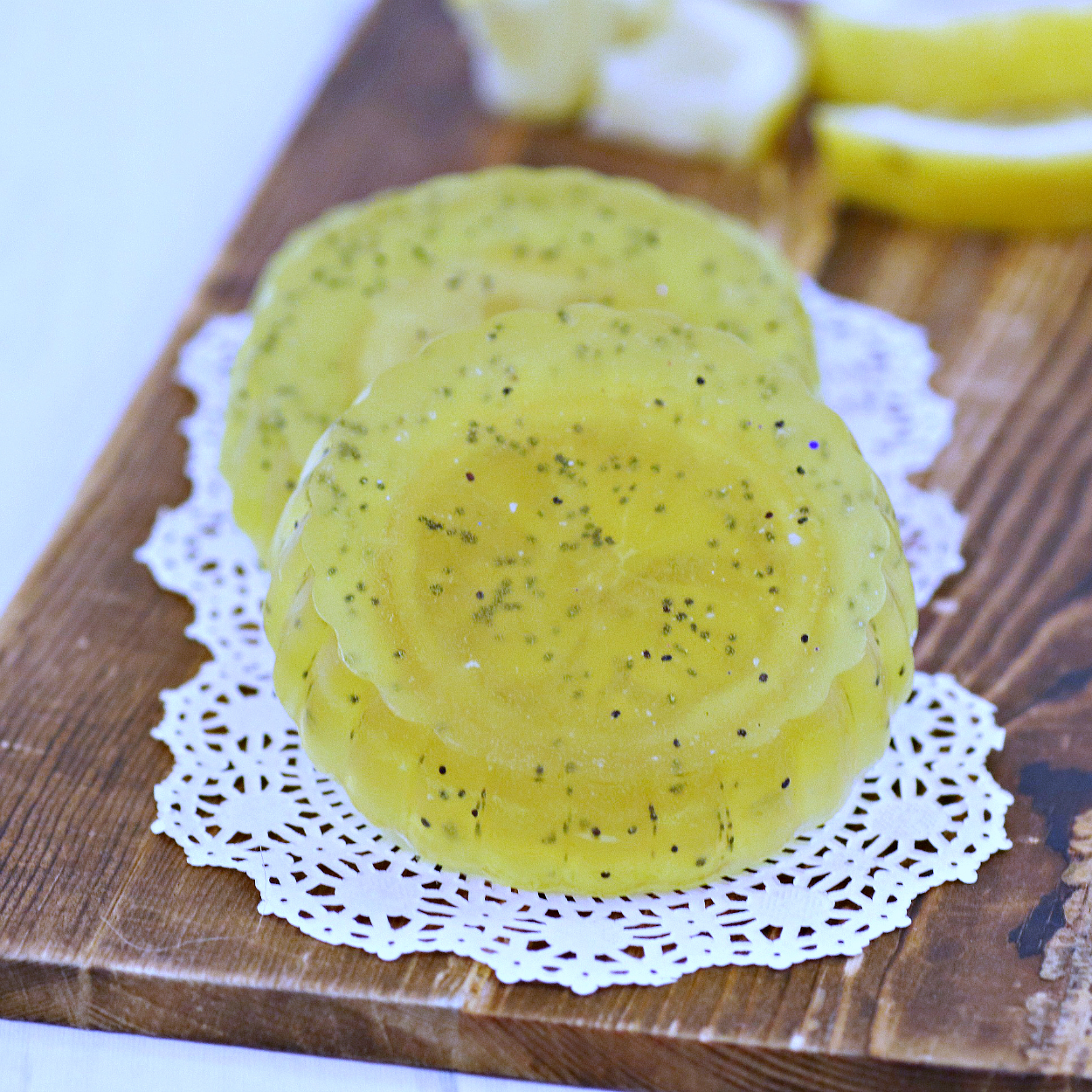 Supplies
1/2 pound clear melt and pour *suspension* soap base (cut into cubes)
1 T poppy seeds
1 T dead sea salt
6 dried lemon slices
10-20 drops lemon essential oil
1-2 drops vegan soap colorant
Round silicone mold
Spray bottle of rubbing alcohol
Plastic measuring cup
Instructions
1) Put the clear soap in your measuring cup. Melt the soap in the microwave at 30 second bursts until soap is completely melted.
2) Add soap colorant and lemon essential oil to measuring cup, and then whisk together. If you want a darker color, add another drop or two.
3) Then add the poppy seeds and salt to the measuring cup, and then whisk again.
4) Spray your soap mold with rubbing alcohol, so bubbles will be prevented. Pour the soap mixture
into the mold until it just covers the bottom of each cavity.
5) Spray top of mixture with rubbing alcohol and allow to harden for about 15 minutes.
6) Place one lemon slice in each cavity. Stir the soap mixture in the measuring cup, then add to the top of each cavity.
7) Spray top of mixture with rubbing alcohol to prevent bubbles. Let it dry for 3-4 hours, so that it will completely harden.
8) Flip mold upside down. Press gently on each cavity to release the soap from the mold.
9) Store in an airtight container or Ziploc bag until ready to use.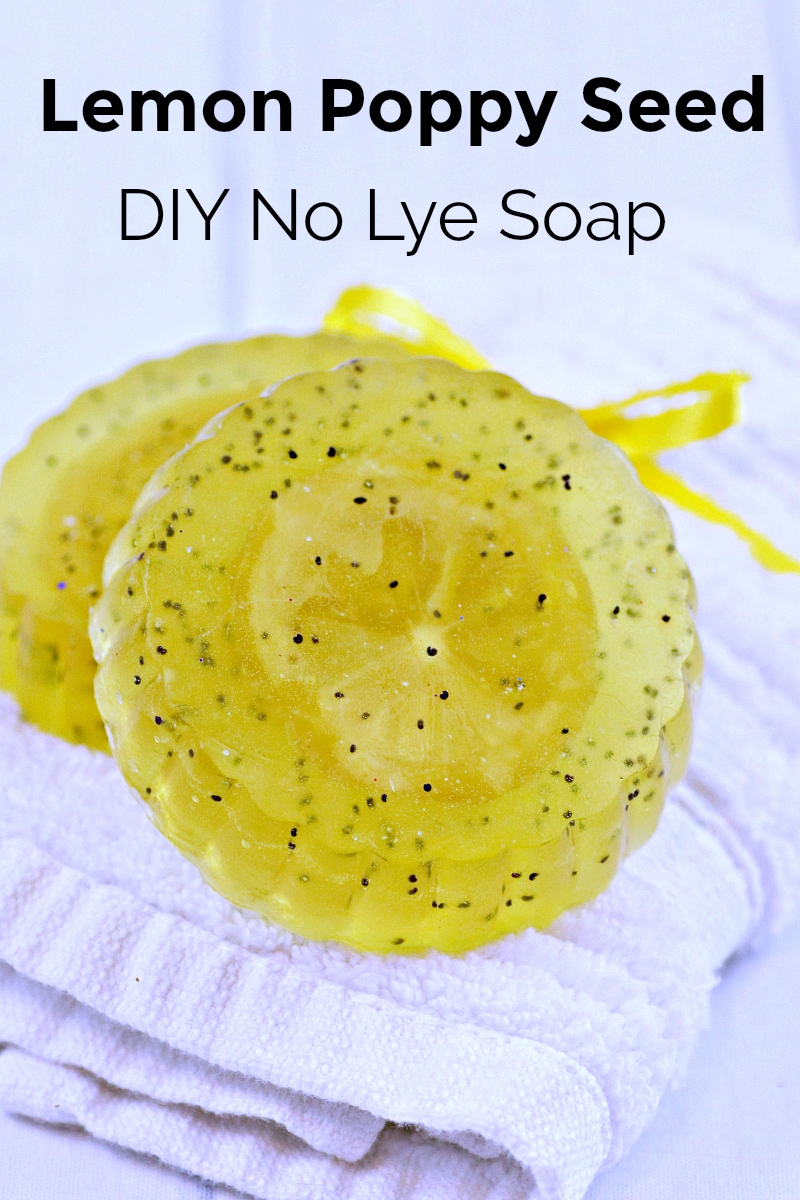 Check out my other crafts, so you can have fun making things for yourself and to give as gifts.