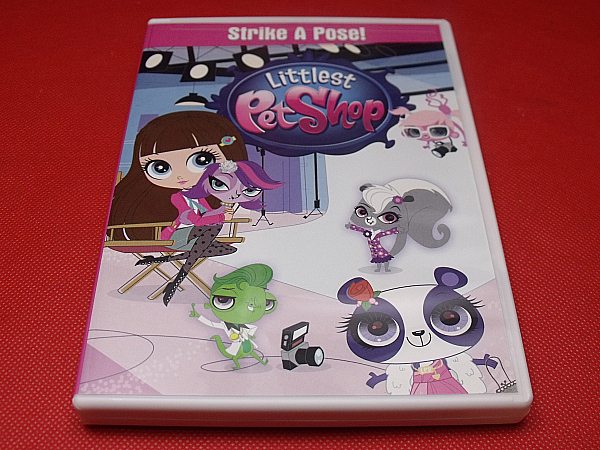 Do you like to talk to your pets? I will admit that I talk to mine regularly as do many pet owners that I know.
Blythe is a girl who talks to her pets that include a dog, panda, mongoose, skunk, hedgehog, monkey and others. Thanks to some animated magic at the Littlest Pet Shop, these pets actually talk with Blythe. They also wear some stylish clothing and accessories.
The TV series currently airs on HUB TV. The Littlest Pet Shop has come a long way since the toys were first introduced in the 1990's. The show feels modern and the stories are full of imagination.
The DVDs are a great way to watch favorite episodes over and over again. The show is cute and fun – perfect for kids who love animals and fashion.
Littlest Pet Shop:
Strike a Pose! DVD

Shout! Factory
Release date 6/3/14
Synopsis: "Blythe and her best friends — Zoe the spaniel, Pepper the skunk, Sunil the mongoose, Russell the hedgehog, Penny the panda and Minka the monkey — are back for five more exciting adventures in the Littlest Pet Shop! Sunil becomes an internet phenomenon, Vinnie befriends some dancing lizards and the Pet Shop welcomes a juvenile alligator into their midst! "
The DVD has 110 minutes of programming. There are 5 episodes and a bonus sing along.
So You Skink You Can Dance?

Commercial Success

What, Meme Worry?
The Big Feathered Parade
Alligators and Handbags
Enter daily through the Rafflecopter form below: