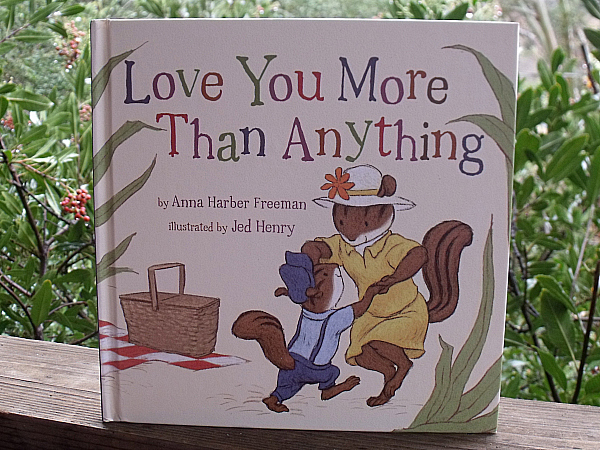 This hardcover children's book is as sweet as can be! The story reminds kids that their parents love them more than anything. Even when we have wonderful things to enjoy throughout the day, that love is what is most important!
Author Anna Harber Freeman has done a beautiful job with her first children's book. She is an elementary school art teacher and clearly understands how to inspire children. The words are lyrical and a pleasure to read.
The illustrations by Jed Henry are detailed and fun to look at. We don't often see a chipmunk family featured in a children's book, so the characters look fresh and unique.
This is a book that kids will want you to read to them over and over again!
Love You More Than Anything

Snuggle Time Stories
by Anna Harber Freeman
isbn 978-1-4549-0021-4
Pub. date 1/7/14
Description: "Through a charming story of a chipmunk family enjoying a beautiful day together, Freeman uses a number of enjoyable activities, such as a picnic lunch and flying a kite, in order to emphasize that a parent loves a child more than any of these wonderful things. Children will find themselves smiling along with the adorable critters portrayed as they learn just how much they are treasured."
Enter daily through the Rafflecopter form below: