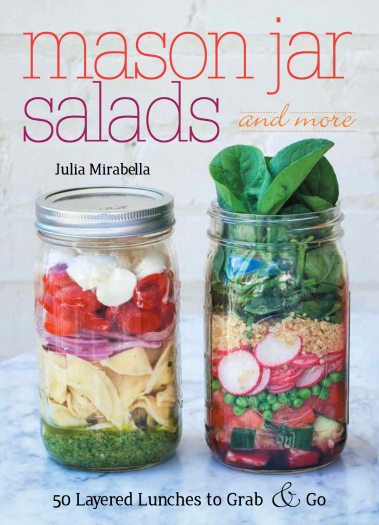 Don't these salads look delicious?!?!
I use mason jars in my home regularly for jam, pickles, storing things in the refrigerator and even as drinking glasses. For some reason, I had never thought to use them to pack salads to go. Thanks to this inspirational recipe book, I've now got a wonderful assortment of good for me recipes that can be packed for a sack lunch or even just made ahead of time to eat at home.
The ingredients are layered and packed tightly. Once the lid is on, they can keep fresh in the refrigerator for up to five days. This is a great way to plan ahead Sunday night for a week's worth of meals for the office or school. It's also a clever way to prepare for a picnic, party or other group get together. The meal will look great and guests will remember your beautiful, nutritious and delicious meal.
The book has step by step instructions to help you understand the process along with a variety of recipes for breakfast, lunch, snacks and dinner.
Here are a few of the recipes that are included:
Caprese Salad

Southwestern Salad
Greek Salad with Chickpeas
Pomegranate and Pear Salad
Barley and Kale Salad
Mason Jar Salads and More

50 Layered Lunches to Grab and Go
by Julia Mirabella
isbn 978-1612432892
Pub. date 5/20/14
Description: "Packing a lunch has never been so fun and creative! Instead of grabbing fast food or an instant meal to choke down in front of the computer, Mason Jar Salads and More shows how to prepare nourishing, beautiful, and convenient lunches packed with fresh produce and whole foods."
Enter daily through the Rafflecopter form below: