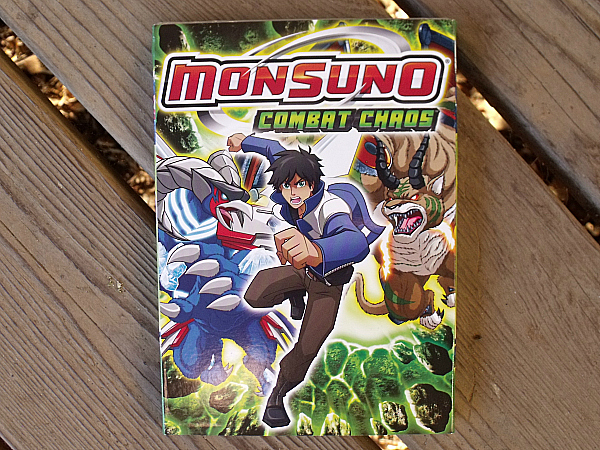 Monsuno is an action packed, imaginative show that entertains kids an anime fans. The TV series can be seen on Nickelodeon's Nick Toons and, of course, the DVDs are a great way to watch the episodes again and again.
In the show, kids discover and command creatures to battle in the hope that good will triumph over evil. Real kids may not have creatures to command, but the idea of choosing to stand up for good is a real life lesson that's appropriate for all.
Monsuno:
Combat Chaos DVD
Shout Factory
Release date 8/27/13
Synopsis: "Chase Suno and his Core-Tech team have emerged victorious in their most recent battle with Eklipse and S.T.O.R.M. With Core-Tech's victory, Chase has been given the opportunity to decide the fate of the Monsuno. Believing that mankind and Monsuno can one day coexist peacefully, Chase allows them to live. But new foes lurk in the shadows, waiting for their chance to strike. Is now their time?"
Combat Chaos features 5 episodes:
Flash

Bang
Mysterious
Antithetis
Kidnapped
There are also bonus character bios. This is a series where knowing the intricate details of each character's story makes it even more exciting.
The episodes are fun to watch. Since the story is so detailed, kids can watch it again and again and still pick up on new things.
CONNECT – You can like Shout Factory on Facebook and follow them on Twitter.
Enter daily through the Rafflecopter form below: