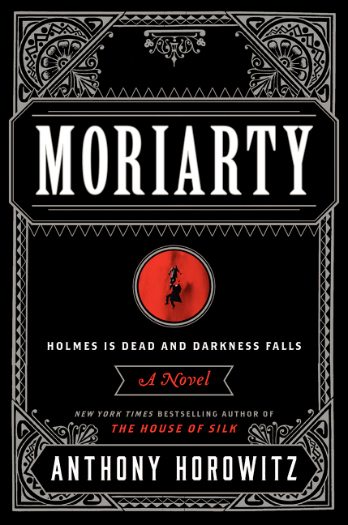 Moriarty. That name just sounds sinister, doesn't it?
Anthony Horowitz is a masterful mystery writer. His novels are based upon the famous characters created by Sir Arthur Conan Doyle – Sherlock Holmes and his nemesis Professor Moriarty. These aren't just poor copycats, but are excellent works of literature. His previous bestseller, The House of Silk, was good enough to be sanctioned by the Conan Doyle's estate. I'm guessing that this one will be as well.
As a fan of mysteries and thrillers, I thoroughly enjoyed this novel. The story itself is fresh, but the characters and writing style are comfortable and familiar. If I hadn't know that this was a new book, I may have assumed it was an old one by Conan Doyle that I has somehow missed reading before.
Moriarty

by Anthony Horowitz
isbn 978-0062377180
Pub. date 12/9/14
Description: "Days after the encounter at the Swiss waterfall, Pinkerton detective agent Frederick Chase arrives in Europe from New York. Moriarty's death has left an immediate, poisonous vacuum in the criminal underworld, and there is no shortage of candidates to take his place—including one particularly fiendish criminal mastermind. Chase and Scotland Yard Inspector Athelney Jones, a devoted student of Holmes's methods of investigation and deduction originally introduced by Conan Doyle in "The Sign of Four", must forge a path through the darkest corners of England's capital—from the elegant squares of Mayfair to the shadowy wharfs and alleyways of the London Docks—in pursuit of this sinister figure, a man much feared but seldom seen, who is determined to stake his claim as Moriarty's successor."
SOCIAL MEDIA – You can connect with Harper Collins on Facebook and Twitter.
Enter daily through the Rafflecopter giveaway form below: