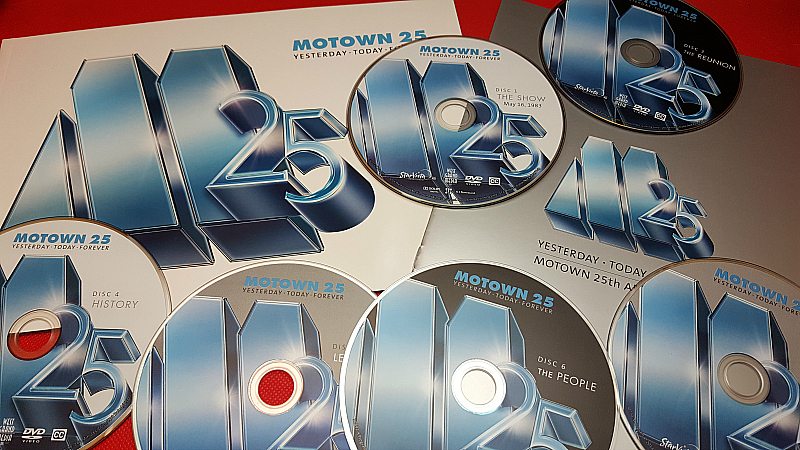 Were you around to watch Motown 25 in 1983. The concert first aired on NBC and was a celebration of the 25th anniversary of Motown. Now that an additional 30+ years have passed, those same artists are even more relevant today. They paved the way for modern music and united us as our society and culture evolved.
The Motown 25: Yesterday, Today, Forever Collector's Edition DVD Box Set includes the original concert and over 14 hours of bonus features on 6 discs. There are interviews, history and, of course, a whole lot of music.
The first disc includes the original concert, a performer's roundtable and a behind the scenes featurette about the making of the show. The other five discs are titled Rehearsal, The Reunion, History, Legacy and The People. It's fascinating material and it's wonderful to have it all compiled in this collection. I was familiar with some of the stories, but now have an even greater understanding and admiration for these pioneers.
As an added bonus, the box set also contains a 48 page collectible book that is beautifully illustrated.
Motown 25
Yesterday, Today, Forever
Collector's Edition DVD Box Set
Time Life
Release date 9/27/16
Synopsis: "Motown 25: Yesterday, Today, Forever debuted on NBC on May 16, 1983, and became an immediate sensation. The highlight that caused the most talk was Michael Jackson's world premiere of the moonwalk (aka six seconds that changed the world) but Motown 25 had an abundance of buzzworthy moments—reunions by the Miracles, the Supremes and The Jackson 5; the first battle of the bands between The Temptations and Four Tops; and the hottest comedian in the world at the time, Richard Pryor, as host."
Enter daily through the Rafflecopter giveaway form below: