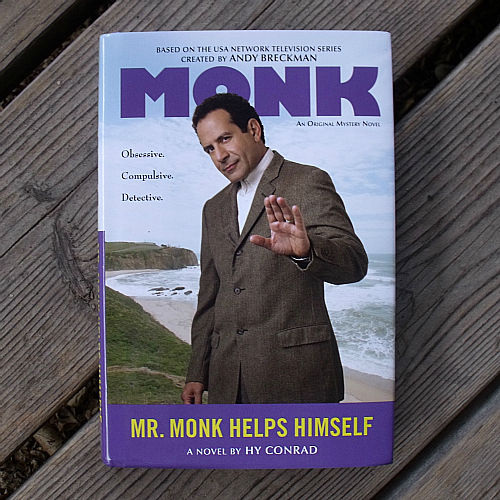 Are you a Monk fan?
This quirky show with it's odd ball characters is easy to get hooked on. The characters really are one of a kind which leads to some interesting adventures.
Normally, I'm not a fan of books that are based on TV shows or movies. They are typically lacking and don't have the same appeal as the original program. However, in Mr. Monk Helps Himself, Hy Conrad has accurately captured the magic of Adrian Monk, the obsessive compulsive detective.
Hy Conrad was one of the original writers for the USA Network TV series, so his writing is authentic. The story in this novel is new, but it aligns perfectly with the Monk that we have grown to love. The novel reads quickly and is hard to put down once you get started.
Mr. Monk Helps Himself

A Novel
by Hy Conrad
isbn 978-0451240934
Pub. date 6/4/13
Description: "Now that Monk and Natalie are both in San Francisco again, life is almost back to normal, with one exception: Natalie is studying for her PI license, the last step to becoming Monk's full partner. Before taking the plunge, Natalie sneaks off to Half Moon Bay for a retreat run by Miranda Bigley, charismatic leader of the "Best Possible Me" self-help program, whose philosophy has helped Natalie deal with her recent life changes. Her plans for a relaxing weekend are disrupted when Monk tracks her down, determined to rescue her from the "cult." Their argument is cut short when Miranda, in full view of everyone, calmly walks to the edge of a cliff and jumps off."
Enter daily through the Rafflecopter form below: