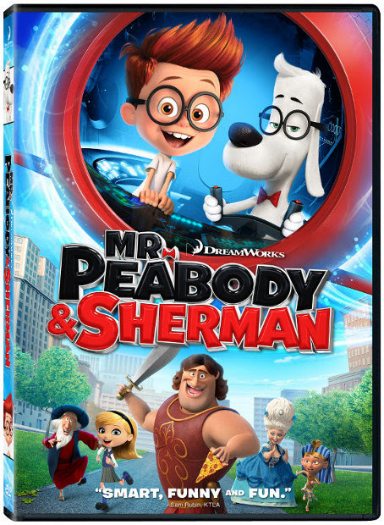 Many years ago, I loved watching Mr. Peabody and Sherman on The Rocky and Bullwinkle Show. It originally aired on TV from 1959 to 1964, so what I watched were reruns. They inspired my imagination, made me laugh and taught me a thing or two about history as I sat with eyes glued to our little black and white TV.
The show has been brought to life in a fun new way that captures the charm of the original show and updates it in a modern way. The classic elements remain, but the style is definitely current to appeal to today's kids and their parents and grandparents.
The Dreamworks movie is from the creators of The Croods and How to Train Your Dragon. Influences from both of those films are evident in the style, humor and some of the characters. The movie stands on it's own as being fresh and unique. This is a winning team and they started out with great characters and a fun story.

Mr. Peabody & Sherman

20th Century Fox
Rated PG
Release date 10/14/14
Synopsis: "Mr. Peabody is an inventor, scientist and genius who just happens to be a dog. With his son Sherman, he will embark on the most extraordinary adventure imaginable as they race against time to repair history and save the future. "
Enter daily through the Rafflecopter form below: