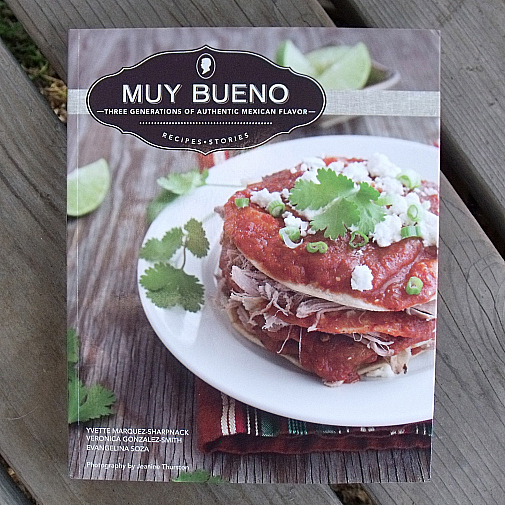 Muy Bueno is more than a cookbook. This is a family memoir that makes the recipes come to life. The brief stories that accompany each recipe convey the love that this family has for each other as they share the ways in which they have bonded over food, shared meals and tradition. Of course, we want food that tastes good, but it's family and friends that make the food even better.
This Mexican cookbook includes the recipes of three generations of women. These are the recipes that have stood the test of time in their family and I've already picked out some that I know I'll want to make time and time again.
Each of the women has their own specialties that they share in this beautiful book. There are over 100 recipes, a glossary, instructions for basic techniques and many photographs.
Muy Bueno Cookbook

Three Generations of Authentic Mexican Flavor
by Yvette Marquez-Sharpnack, Veronica Gonzalez-Smith and Evangelina Soza
isbn 978-0781813266
Pub. date 10/25/13
Description: "Siéntate a comer, esta muy bueno! Sit down and eat, it s very good! This was how Jesusita Mendias-Soza always welcomed guests to her table. The same words served as inspiration for her daughter Evangelina and granddaughters Yvette and Veronica, who wanted to honor her memory and preserve their family's recipes and stories for future generations. "
Enter daily through the Rafflecopter form below: