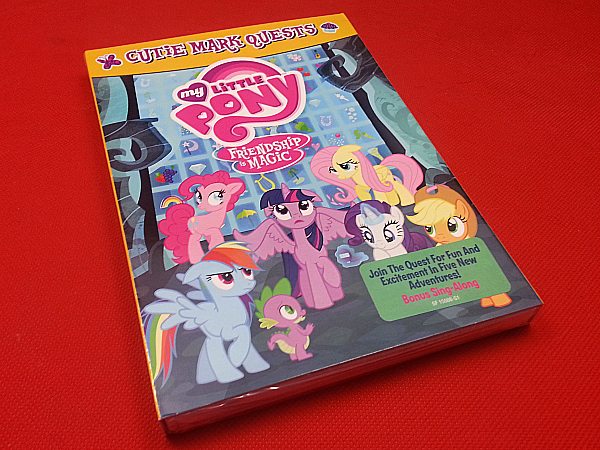 Cutie Mark Quests is part of the Friendship is Magic series. The ponies are on a quest for fun and excitement. There are five episodes and a bonus sing along on the DVD.
The Show Stoppers
The Return of Harmony, Part 1
The Return of Harmony, Part 2
The Cutie Map, Part 1
The Cutie Map, Part 2
The overall feeling of the episodes is positive and uplifting. These sweet and magical characters are ready with feel good stories to brighten your day!

My Little Pony Friendship Is Magic

Cutie Mark Quests
Shout! Factory
Release date 6/30/15
Synopsis: "In Equestria, being true to yourself is the key to earning your cutie mark. Join Twilight Sparkle, Apple Jack, Pinkie Pie, Rarity, Fluttershy and Rainbow Dash—as well as everyone's favorite Cutie Mark Crusaders, Scootaloo, Sweetie Belle, and Apple Bloom—as they journey to find their own Cutie Marks, take on the spirit of chaos and disharmony and visit a village where… everypony has given up their Cutie Marks?! It's all here in Cutie Mark Quests!"
SOCIAL MEDIA – You can connect with Shout Factory! on Facebook and Twitter.
Enter daily through the Rafflecopter giveaway form below: