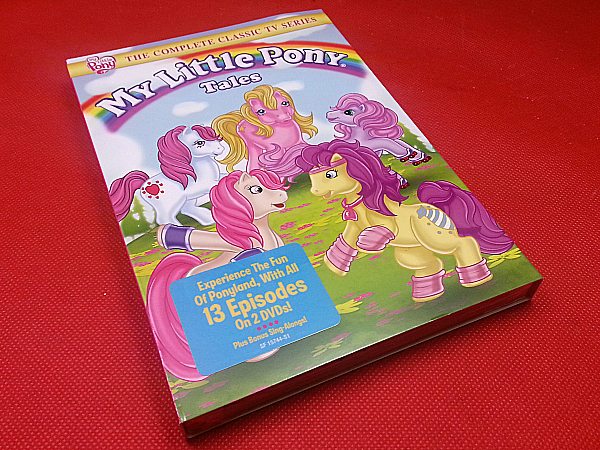 My Little Pony has come a long way since it first made it's debut on TV back in 1992. Now is your chance to get the complete classic TV series on a special two disc DVD set.
There were thirteen original episodes. Each one includes two adventures for a total of 26 classic My Little Pony stories. They've also added some bonus sing along fun.
The animation style is definitely "1990's" so it's visually not the same as the modern episodes. The stories, however, are super sweet and very similar to the current shows.
This DVD set will be a fun trip down memory lane for parents who used to enjoy the original cartoons. It is also fun for girls and boys who like watching the new episodes.
My Little Pony Tales is a great addition to your My Little Pony DVD collection!
My Little Pony Tales

The Complete Classic TV Series
Shout! Factory
Release date 4/28/15
Synopsis: "Ponyland is full of excitement, if you know where to find it, and now all of your favorite My Little Pony Tales are finally collected in one amazing set! Join the 7 Pony Friends—Starlight, Sweetheart, Melody, Bright Eyes, Patch, Clover and Bon Bon — for 13 episodes of outrageous fun! Games, picnics, ice cream shops, roller derbies and even UFOs… nothing is off-limits when it comes to grand Pony adventures!"
SOCIAL MEDIA – You can connect with Shout Factory! on Facebook and Twitter.
Enter daily through the Rafflecopter giveaway form below: