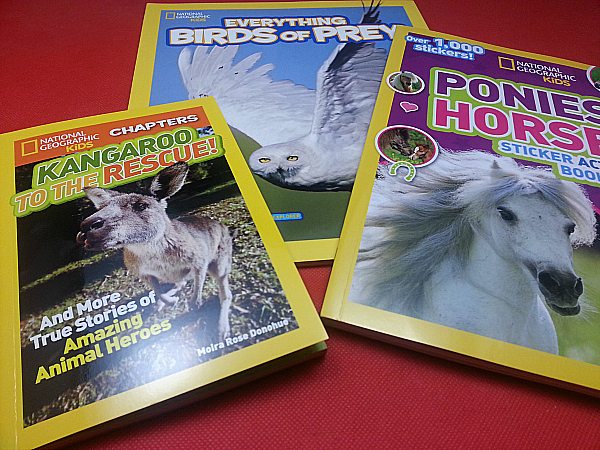 National Geographic knows just how to inspire and open the minds of children and adults. Their magazines, books and other products are engaging for all ages. Even kids who claim they don't like to read or don't like learning, can easily get lost in the pages of a NatGeo book. They are wonderful!
In addition to the books, National Geographic has Super Readers activities online. They offer printables, quizzes, activities, games and prizes.
Here are a few of the latest books from NatGeo Kids. They are a fascinating, factual and entertaining look at birds of prey, horses, kangaroos and a whole lot more.
Which of these books do you think your children will enjoy the most?
National Geographic Kids
Everything Birds of Prey:
Swoop in for Seriously Fierce Photos and Amazing Info
by Blake Hoena
isbn 978-1426318894
Pub. date 3/10/15
National Geographic Kids
Ponies and Horses Sticker Activity Book:
Over 1,000 Stickers!
isbn 978-1426319020
Pub. date 2/24/15
National Geographic Kids Chapters:
Kangaroo to the Rescue!:
And More True Stories of Amazing Animal Heroes
by Moira Rose Donohue
isbn 978-1426319136
Pub. date 2/10/15
SOCIAL MEDIA – You can connect with National Geographic Kids on Facebook and Twitter.
Enter daily through the Rafflecopter giveaway form below: