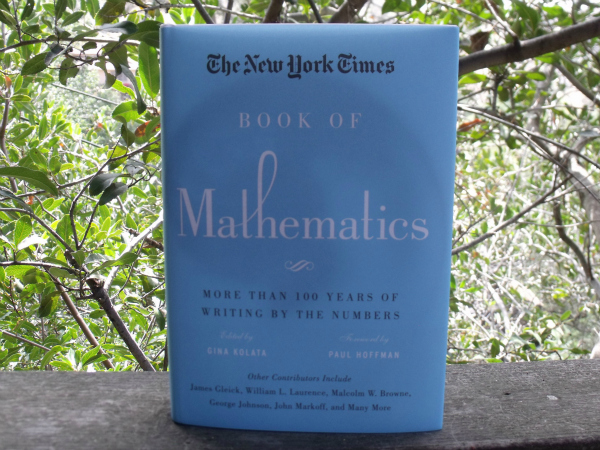 Mathematics.
Does that word scare you? Or does math pique your interest?
Whether you like it or hate it , math is a part of our lives. I liked math some when I was growing up. Now that I see all of it's real life applications, I'm a bigger fan. Even if you try to ignore math, it is ever present in our world and every day life.
The New York Times Book of Mathematics is a collection of stories that are all about math. This book would be a great gift for a Dad or graduate who loves numbers and how they work together.
The New York Times Book of Mathematics

More Than 100 Years of Writing by the Numbers
Gina Kolata (Editor)
isbn 978-1402793226
Pub. date 6/4/13
Synopsis: "A great mathematician once rejected the very idea that people outside his circle could ever understand the true essence of his field— and yet the 110 articles written from 1892 to 2010 in The New York Times reveals the complexity and true practicality of math for every person. The New York Times Book of Mathematics reveals a rich world that can be exciting, surprising, and even a bit emotional."
The articles were originally in The Times, so they aren't too long. Each one is packed full of information, just as I expected. They are organized into categories that can stimulate your mind and help increase your appreciation of math.
Chapters include:
What is Mathematics?

Statistics, Coincidences And Surprising Facts
Famous Problems Solved, And As Yet Unsolved
Chaos, Catastrophe And Randomness
Cryptography And The Emergence of Truly Unbreakable Codes
Computers Enter The World of Mathematics
Mathematicians And Their World
Just like with a newspaper, you can skip around and read whichever articles suit your mood. They are fun from an intellectual standpoint and also have practical meaning.
CONNECT – You can follow Sterling Books on Twitter.
Enter daily through the Rafflecopter form below: