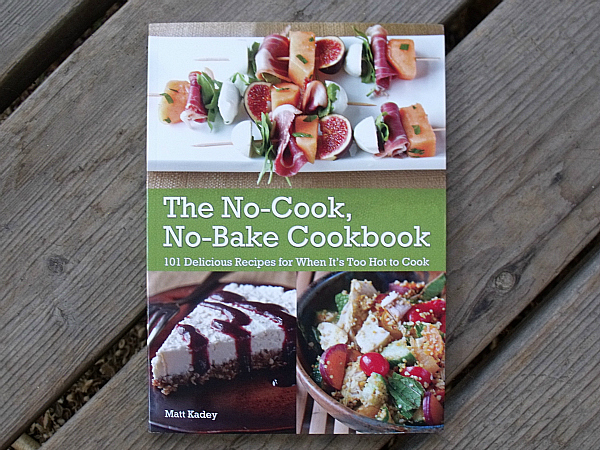 When the Summer sun is heating things up, the last thing I want to do is turn on the oven and make it even hotter inside my house. Even when it's not hot, it's a good idea to save energy and cut down on the cooking and baking. The No-Cook No-Bake Cookbook has 101 recipes that will satisfy in fun and fresh ways.
There are recipes for breakfast, lunch, dinner, snack time and dessert. Most are made with fresh ingredients and some utilize leftovers or pre-cooked meat that can be purchased in the deli aisle of the grocery store.
Here are a few that look great to me:
Peanut Butter Pumpkin Bars

Peach Gazpacho
Watermelon Jicama Salad
Salmon Mango Ceviche
No-Bake Flourless Fig Brownies
Mango Spring Rolls
The photography in this book is amazing. The foods look they they could pop right off the page. The colors and combinations of textures and ingredients are very appetizing.
The No-Cook No-Bake Cookbook

101 Delicious Recipes for When It's Too Hot to Cook
By Matt Kadey
isbn 978-1-61243-189-5
Pub. date 6/4/13
Synopsis: "There are days when spending time in the kitchen is torture. But instead of resorting to microwave dinners or ordering take-out, there's a way to make refreshing dishes that are as simple and fast as they are healthy and delicious. The 101 Best No-Cook Recipes allows you to create delicious meals without firing up the range. Whether you're looking to make a quick-and-easy breakfast, bag lunch, hearty dinner or even a delectable dessert, it's possible to keep both your stress level and kitchen temperature low."
The book would make a great gift, but you just may want to get one for yourself as well.
CONNECT – You can like Ulysses Press on Facebook and follow them on Twitter.
Enter daily through the Rafflecopter form below: