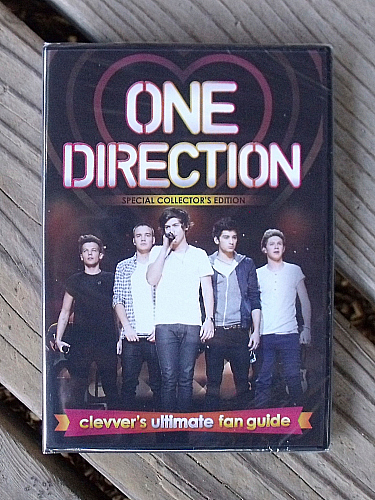 Do you have a One Direction fan in the house? The Clevver Ultimate Fan Guide DVD is for you!
I am fully aware that I am not exactly the target audience for a British boy band. Pop is not typically my genre of choice and I'm more than a little bit beyond the age of the average fan. Yet, when I'm in the car alone, I have been known to sing along loudly when One Direction comes on the radio. The music and lyrics are catchy and generally have a happy feel to them.
It's always interesting to get a glimpse into how musicians rose to fame and to learn things about them beyond gossipy headlines on news sites. This DVD was fascinating for me and would be even more enjoyable for a true fan.
One Direction
Clevver Ultimate Fan Guide DVD

Not Rated
Release Date 2/4/14
Synopsis: "From the #1 digital entertainment news destination – ONE DIRECTION: CLEVVER'S ULTIMATE FAN GUIDE "Special Collector's Edition" provides a personal and professional look at the members of the record-breaking band. This documentary offers insight into who the members are as individuals and artists. From the point of view of the fans, learn details about the group that you may not already be aware of."
Enter daily through the Rafflecopter form below: