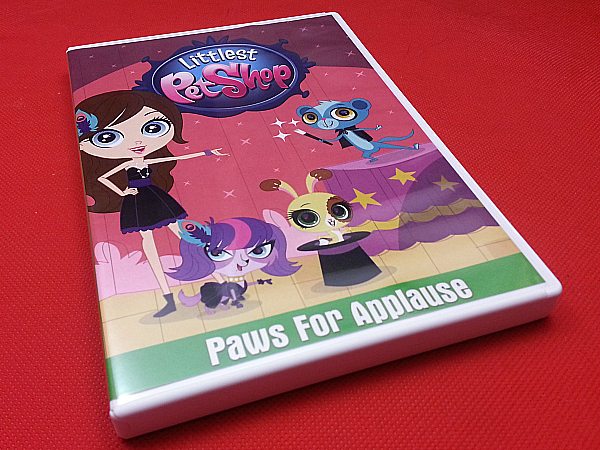 The Littlest Pet Shop is here to stay! The toys were first introduced in the early 1990's and a TV series soon followed. It was cute at the start, but has gone through some fun changes and now has the "Hasbro touch." The human and animal characters have big heads, big eyes and big attitudes. The styles are fun and edgy.
Each of the episodes is cute and entertaining. In addition to the fictional animal fun, the stories include realistic situations and some good life lessons about friendship and getting along with others.
The show currently airs on HUB TV, but, of course, fans will want to have the DVDs to watch the episodes over and over again.
The Paws for Applause DVD includes five fun filled episodes and a bonus sing along:
Missing Blythe
Super Sunil
Blythe's Big Idea
Some Assistance Required
Back Window
Littlest Pet Shop
Paws For Applause

Shout! Factory
Release date 6/16/15
Synopsis: "Blythe and her best friends from Mrs. Twombly's Littlest Pet Shop are back for more off-the-wall pet adventures! Join Zoe the spaniel, Pepper the skunk, Sunil the mongoose, Russell the hedgehog, Penny the panda and Minka the monkey as they plan a visit to Blythe's fashion camp, prevent the sabotage of an important photo shoot and catch a design thief! All of this and more give us a reason to Paws for Applause!"
SOCIAL MEDIA – You can connect with Shout Factory! on Facebook and Twitter.
Enter daily through the Rafflecopter giveaway form below: