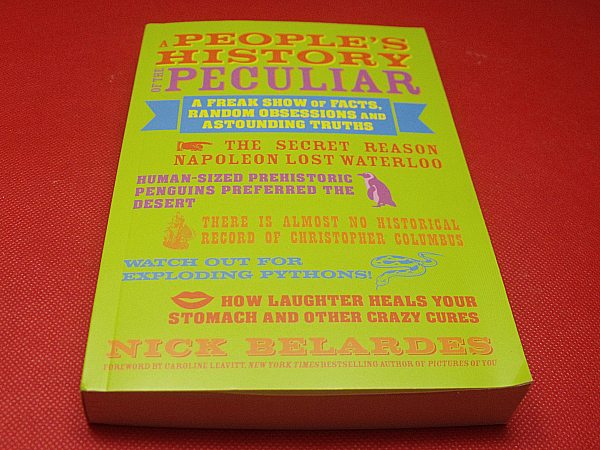 Learning new things is always fun, and it can be especially fun when the new facts you pick up are quirky bits of trivia that are not widely known.
In A People's History of the Peculiar Nick Belardes has compiled an amazing collection of facts that are most definitely peculiar. This is the kind of odd historical information that you just may remember unlike those lists of dates, names and places that we had to memorize has kids for history and science exams.
Topics covered include history, unnatural science, mysterious medical conditions, inventions, strange jobs and others.
The book is great for kids and adults who like trivia. Some will want to read it from cover to cover others will just want to pick it up and turn to random pages for interesting tidbits.
A People's History of the Peculiar

A Freak Show of Facts, Random Obsessions and Astounding Truths
by Nick Belardes
Viva Editions
isbn 978-1936740833
Pub. date 4/8/14
Description: "Did you know founding father Thomas Jefferson's grandson was an ax murderer? Or that a good laugh can cure a bad stomachache? Nicholas Belardes has been called a "bizarre fact hunter" and "master of the last thing you need to know." An academic in anomaly, Belardes knows more secret lore than all the National Treasure movies combined, and digs up mind-boggling scientific oddities that would drive Darwin mad. Pore over the puzzle of Alice in Wonderland syndrome, explore the geographic mysteries of Hell Town and the hungry denizens of the Cannibal Islands, and uncover the prophecies of the mysterious Mothman. A People's History of the Peculiar will satisfy your curiosity better than any Internet binge, and guarantees at least a few workable pickup lines at a party. "
Enter daily through the Rafflecopter form below: