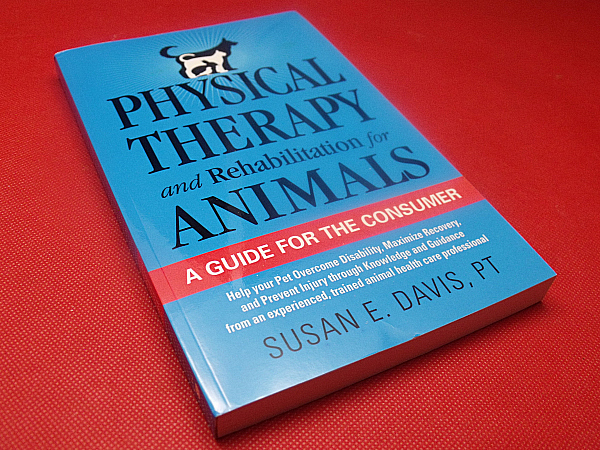 Do you have a dog or cat who is one of the family? If so, you understand that healthcare isn't just for humans. I hadn't ever thought about physical therapy for pets, but it makes sense that it would be a central part of treatment and rehabilitation for a variety of health issues, whether they are due to an injury, a genetic issues or just old age.
Susan Davis is a licensed physical therapist with 35 years of experience. She began working with people and then transitioned to animals. She has helped a wide variety of pets and zoo animals.
The subject matter of the book is technical, but she presents it in a warm way that demonstrates her love for animals. There are personal stories and specific cases that help make the medical information easier to understand.
My menagerie of pets is currently healthy, but I do have an elderly cat who is slowing down. I picked up some great tips for caring for him.
Physical Therapy and Rehabilitation for Animals

A Guide for the Consumer: Help your Pet Overcome Disability, Maximize Recovery and Prevent Injury … trained animal health care professional
by Susan E. Davis
isbn 978-0989275002
Pub. date 7/30/13
Description: This "is an essential guide that helps a pet owner navigate the veterinary physical therapy and rehabilitation field throughout their animal¹s lifespan. Topics include: finding a qualified therapist, getting started, what to expect on the initial visit, goal setting, treatment intervention plans, anatomy, and descriptions of a wide variety of conditions affecting the pet in the areas of Orthopedics, Neurology, Oncology, Metabolic Illness, etc. The book also addresses interesting topics such as Seniors/Geriatrics, Arthritis, Injury Prevention, Sports and Athletic animals, Stem Cell Procedures, Reiki, Braces and Splints, Wheeled Carts and Artificial limbs, etc. Numerous patient case studies and anecdotal stories covering over 5 animal species are interspersed throughout the book."
Enter daily through the Rafflecopter form below: