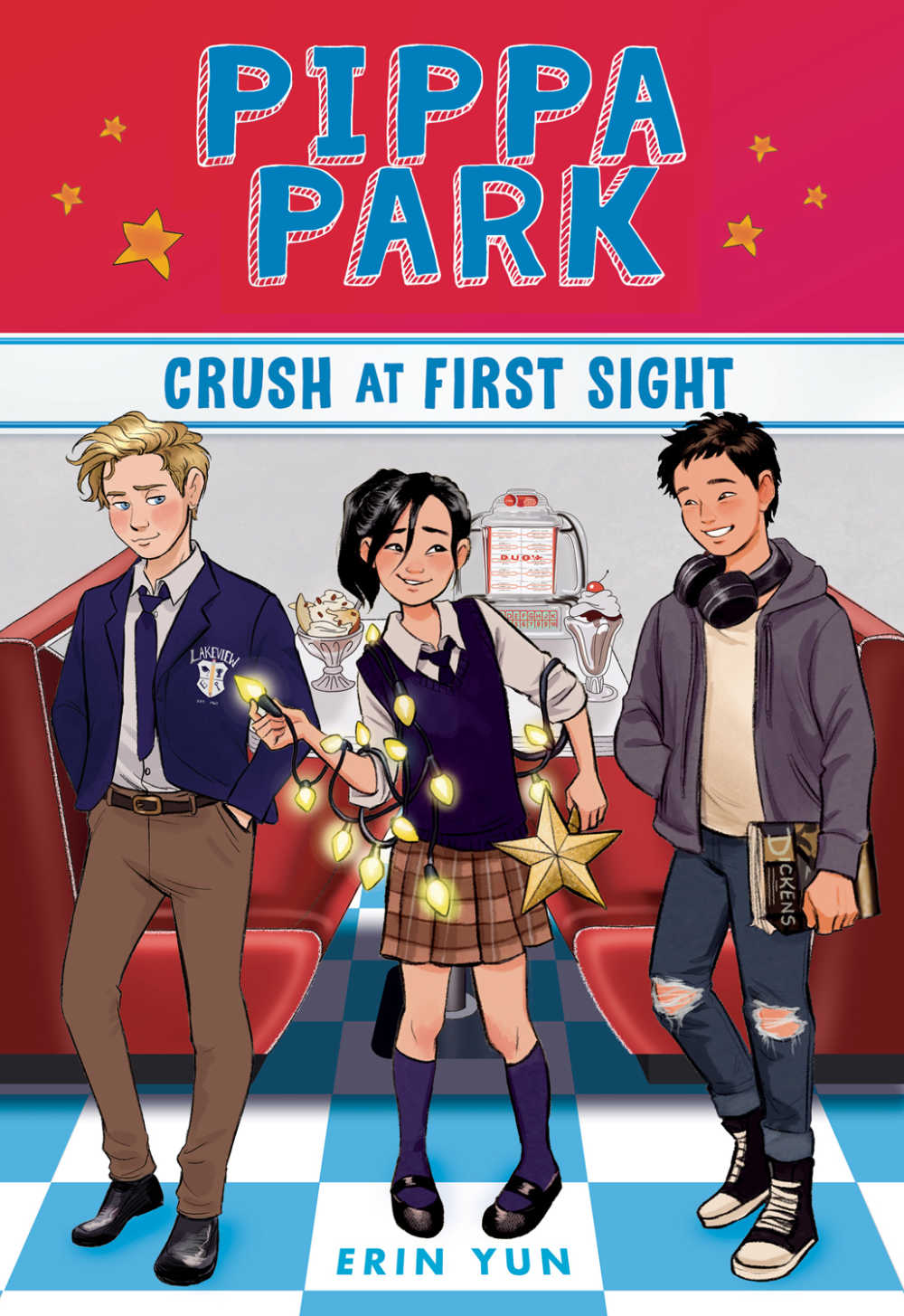 Follow along all week for exclusive guest posts from author Erin Yun.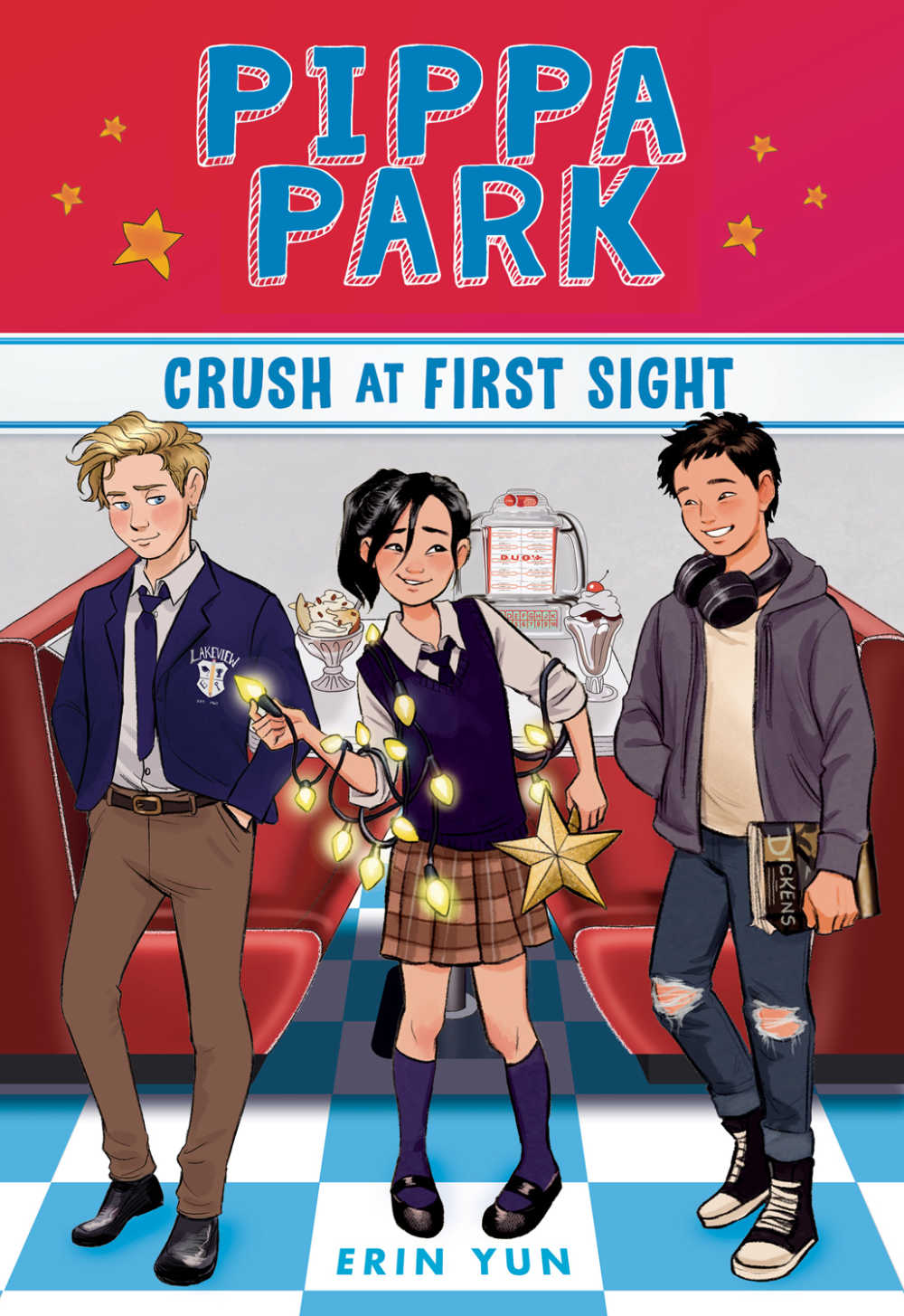 5 Lessons I Learned During My Debut Journey
by Erin Yun
Last week, a friend asked me when Pippa Park Crush at First Sight—the sequel to my debut, Pippa Park Raises Her Game—comes out.
I replied: "Not until late September . . . so in a few months."
And that's when I remembered it was August.
The dormant butterflies in my stomach stirred, then took flight.
Pippa Park Crush at First Sight releases in less than a month?
What?!
How?!
Aaaaah!
After a deep breath—okay, several deep breaths—I reminded myself that this wasn't my first rodeo.
So, in anticipation of my second book, I ruminated on my debut journey, lingering on the highlights and trying to find a few lessons to be learned as well.
1. Virtual Visits Are a Great Way to Travel the Country in Pajama Pants
Before my first virtual visit, I had concerns.
What if my Wi-Fi stops working?
Will the kids find the virtual aspect distracting?
How do I communicate without waving my hands everywhere?
While I'm still getting the hang of the latter, virtual visits truly are an amazing way to connect with young readers.
The students are familiar with this kind of technology, so the engagement level remained high—and I never had to point at my ear and shout "What did you say?!" during a Q&A.
2. Your Family Will Not Get Less Embarrassing Supportive Over Time
In other words, you will never be able to enter a library or a bookstore with your parents ever again . . . because they will immediately track down a librarian or bookseller and inform them that their daughter—yes, that's right, the one blushing over there in the corner—is a published author.
Every single time.
3. Your Journey Is Your Journey
It's hard not to compare yourself to other authors.
You fret about your Goodreads score, and your trade reviews, and whether the reason so many authors are friends with each other is because they're all cool and charming and you're not.
Or, at least, I know I do. Insecurity isn't a light you can switch off, but I'm personally the happiest when I a) limit how much I scroll through social media, b) stop looking at my Goodreads score, and c) encourage and express genuine happiness for others, without worrying about myself.
4. Authors, Librarians, and Booksellers Only Seem Intimidating
In reality, they're some of the most accepting people I've met.
I still get nervous and tend to babble whenever I meet anyone new, but knowing how sweet those in the community are helps calm me down.
One of the highlights of this year was showing up to a signing at the Texas Library Association
conference and seeing several of my old librarians in line!
5. Finally, No Matter How Much You Prepare, It Won't Prepare You for the Second Book
As I speed toward the release date for Pippa Park Crush at First Sight, I can't help feeling nervous or constantly refreshing my Goodreads page . . . but I also can't stop my anticipation and optimism!
And while there's no way to know how my sequel journey will compare to my debut journey, I'm excited to find out.
isbn 978-1944020804
Pub. Date September 13th, 2022
Synopsis
Join Pippa Park as she juggles friendships, bullying, crushes, and family in the sequel to the compelling drama-filled middle school book Pippa Park Raises Her Game.
Korean American Pippa Park picks up right where she left off . . . trying to balance basketball, school, friends, working at the struggling family laundromat, and fitting in.
Eliot, her math tutor—and the cutest boy at school—is finally paying attention to her.
And Marvel—her childhood friend—is making her required volunteering much more interesting.
But things with the Royals, her new friends and teammates who rule the school, still feel a bit rocky. Especially because Caroline, a head Royal, would like nothing more than to see Pippa fail.
So when Pippa is faced with hosting the annual Christmas Eve party that could make or break her social life, how can she say no?
Will Pippa make enough money to cover the costs while juggling crushes and everything else?
With courage and determination, Pippa sets out to host the party, find the perfect dress, pick the right boy, and stay true to her real self.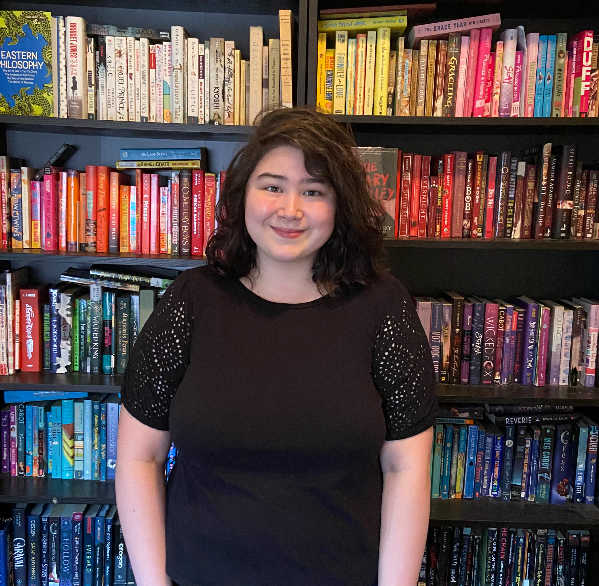 Author
Erin Yun grew up in Frisco, Texas, and used to play basketball as a middle grader.
She received her BA in English from New York University and is currently pursuing her master's
degree in Creative Writing at Cambridge.
She developed the Pippa Park Author Program, an interactive writing workshop, which she has conducted in person and virtually at schools, libraries, and bookstores.
Publisher
Fabled Films Press LLC is creating original content for young readers and middle-grade audiences that combines strong literary properties with high-quality production values to connect books with generations of parents and their children.
Each property is supported by websites, educator guides, and activities for bookstores, educators, and librarians, as well as videos, social media content, and supplemental entertainment for additional platforms.
Reviews
"Pippa explores the highs and lows of friendships and first crushes in this well-crafted sequel to Pippa Park Raises Her Game. ..VERDICT This warm-hearted, feel-good series continues to realistically explore one Korean American girl's middle school experience in a relatable way." —School Library Journal
"This is solid, classic middle-school drama fare that benefits from the interesting ways Pippa's
family background is developed. An engaging variation on a familiar theme." — Kirkus Reviews
Blog Tour Schedule
September 12th — Mama Likes This
September 13th — Bookhounds
September 14th — A Dream Within A Dream
September 15th — Good Choice Reading
September 16th —YA Books Central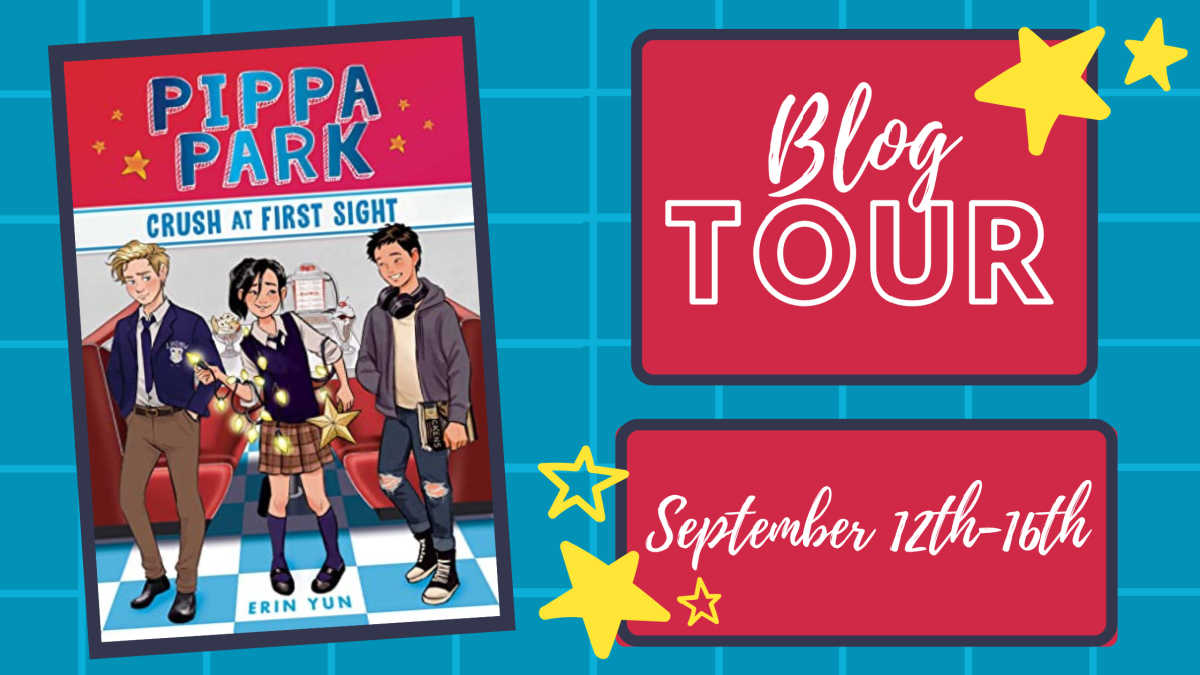 Book Launch Giveaway
Prizes: Enter for a chance to win an Exclusive Pippa Park Scavenger Hunt Box! Uncover the hidden meaning behind the clues in the box which include: A Tarot Card, Holiday Snow Globe, Kimchi-jjigae Family Recipe from the Author with a jar of Gochugaru, Mini Basketball Stress Ball, Golden Scrunchie, Signed Editions of Pippa Park Raises Her Game in paperback and Pippa Park Crush at First Sight in hardcover and a Pippa Park Bookmark.
5 Winners
US Only
Ends 9/25/22 11:59pm ET
***This giveaway is being administered by Media Masters Publicity. They are handling the entries and will contact the winner and ship the prizes.***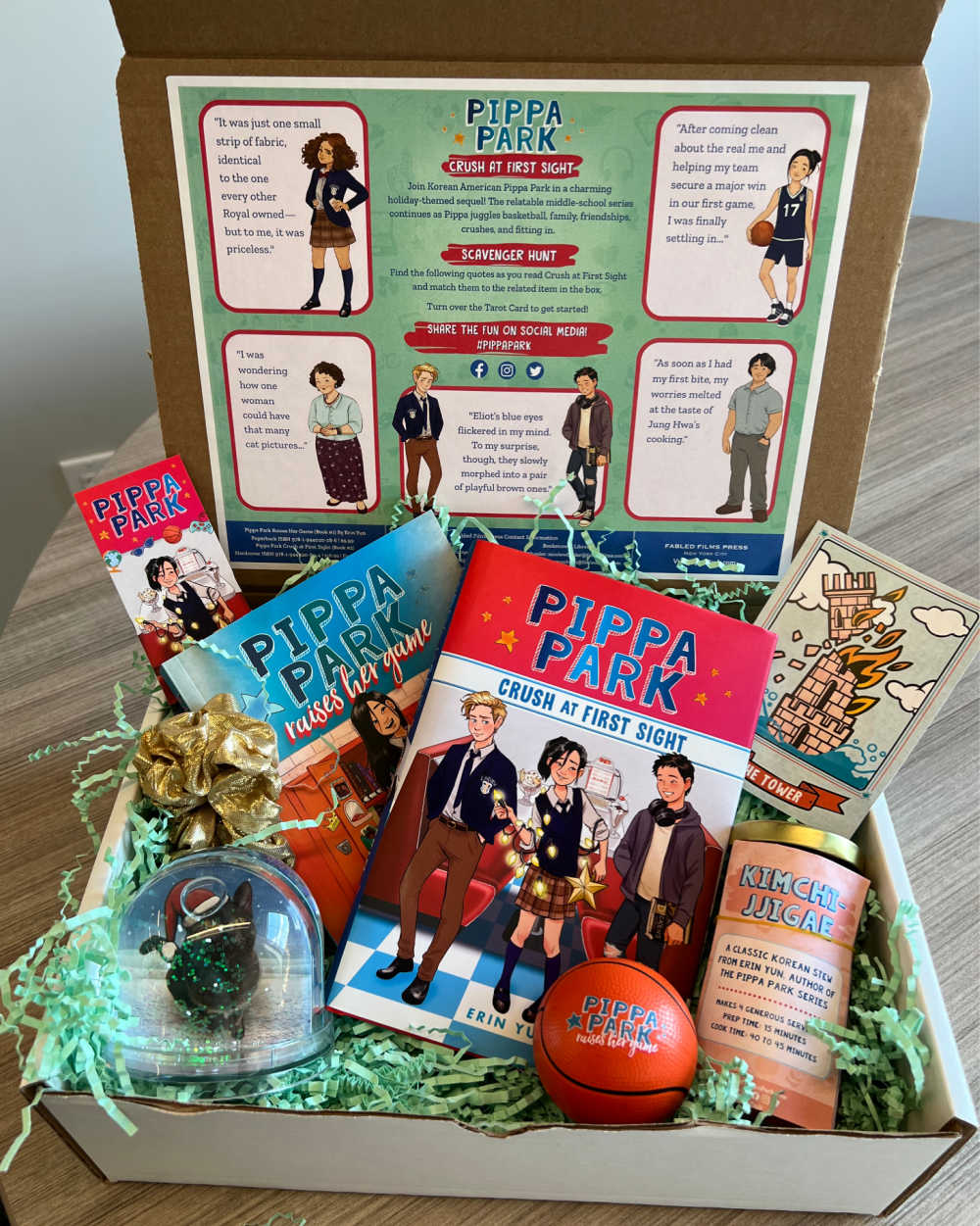 More from Mama Likes This
Take a look at my other entertainment articles, so you can keep up with the latest TV, movie and book news.
Printable Activity Pages
Check out my free printables, when you are looking for fun activities to do at home.
Many are from Disney, Netflix and Shout Factory, so they feature movies, TV series and characters that your kids already know and love.
Some are educational, but others are just plain fun.
There are coloring pages, crafts, word puzzles, mazes, memory games and many other family friendly activities.