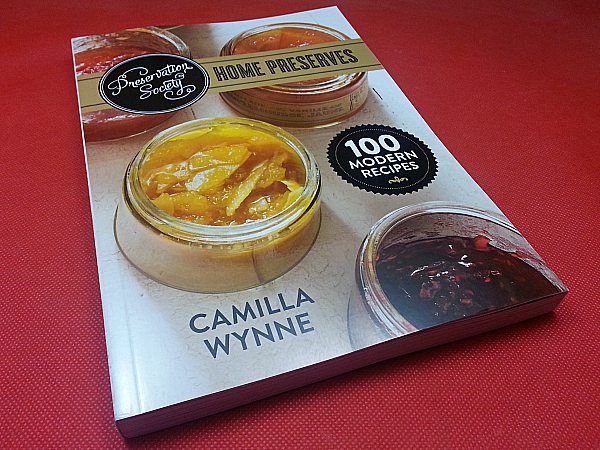 There is nothing quite like the taste of homemade preserves!
Camilla Wynne is a Master Preserver in Canada and has founded the Preservation Society. She produces a line of small batch preserves and likes to think outside of the box. For example, instead of a plain strawberry jam, she prefers to elevate the recipe and make strawberry margarita jam.
The cookbook is beautiful with lots of color photographs. Instructions are clear and the recipes have that extra 'wow factor' that will make your preserves something special and memorable.
Fresh seasonal fruits and vegetables are used for the preserves. The recipes are definitely more unique than the usual ones, but the ingredients are still generally very easy to find. She has just combined them in different ways.

Preservation Society Home Preserves

100 Modern Recipes
by Camilla Wynne
isbn 9780778805038
Pub. date 3/16/15
Description: "These are not your grandmother's preserves, but we're certain she would approve! Preservation Society is a very particular preserves company. And while its founder, Camilla Wynne, may not always make pristine preserves from organic heirloom produce, she does make things filled with imagination and heart. Camilla's mandate at Preservation Society is to use as much local produce as possible. It may seem like a nice idea to make the perfect strawberry jam, but that's not what she does, nor is it the type of recipe you'll find in this book. Instead, her recipes are amusing, creative and simply mouth-watering."
Here are a few of the recipes you'll find in the cookbook:
Pina Colada Jam
Peach Passion Jam
Pickled Brussels Sprouts
Famous Apple Chutney
CONNECT – You can like Robert Rose Books on Facebook and follow them on Twitter
Enter daily through the Rafflecopter form below: