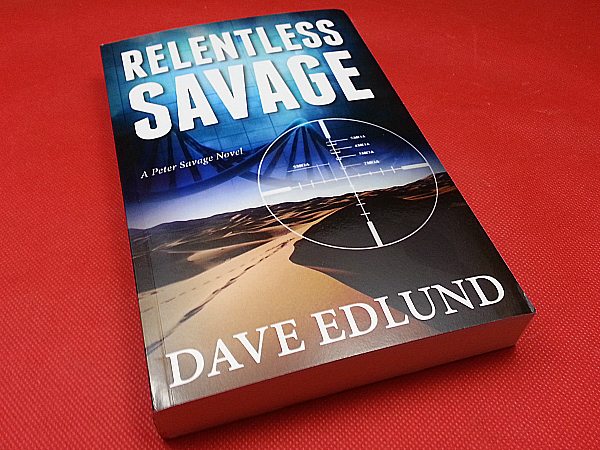 Are you ready for an edge of the seat thriller? Dave Edlund is an expert at crafting just this sort of novel that is filled with intrigue, action and lots of smarts.
Relentless Savage is the second book in his Peter Savage series. If you haven't read the first one, yet, you'll be fine with starting with this one, but you just may want to go back and read the other later once you've met the lead character and gotten hooked on the storyline.
The first book, Crossing Savage, had a story that centered on energy independence. In the second book the theme is biological terrorism. The books feel very real – as if things could almost happen exactly this way. Once I learned about the author, it all made sense.
Dave Edlund has a PhD in Chemistry. He's made a career in technology for the hydrogen industry. In addition to his novels, he has written a textbook – Methanol Fuel Cell Systems: Advancing Towards Commercialization. He brings his technical and practical knowledge to the fiction that he writes.
I'm not sure exactly where fact ends and his imagination takes over, but the result is a compelling story that draws you right in and keeps you reading. This is one of those books that is hard to put down once you start, so would be great to take with you on vacation and read through it all the way to the end in just a few days.
Relentless Savage

by Dave Edlund
isbn 978-1611531299
Pub. date 4/8/15
Description: "When Peter Savage's son Ethan is kidnapped by rebel forces in Sudan while on a service trip, Peter will stop at nothing to get his son home. Recruiting old friends and tapping into the expertise of Commander James Nicolau, Peter puts together an unlikely rescue mission that will pit him against deadly forces. What Peter and his team find in the Sudan is a force far more sinister and dangerous than they could ever imagine. They are drawn into a much larger top-secret government mission, one that leads them to a hidden research site with an army of genetically–perfect soldiers."
Enter daily through the Rafflecopter giveaway form below: