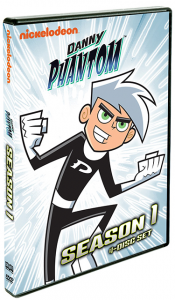 Danny Phantom
Season One DVD
Nickelodeon
Release date 9/13/11
Description: One of the most memorable Nickelodeon cartoons, Danny Phantom stars 14-year-old Danny Fenton, an unpopular but good-natured boy attending Casper High School in his small American hometown. Danny lives with his strange, ghost hunting parents Maddie and Jack as well as an overbearing 16-year-old sister, Jasmine. One day, while exploring his parents' Ghost Portal, Danny accidentally turns himself into a half ghost boy launching a series of memorable adventures. Accompanied by his best friends Samantha and Tucker, Danny battles ghosts, the spiteful ghost hunter Valerie Gray, his ghost hunting parents all while keeping his new identity a secret!
This very fun show was originally on Nickelodeon from 2004 to 2007 and is currently on NickToons. The animation style definitely takes me back in time. You'll probably recognize some of the voices from other Nickelodeon cartoons (Rugrats, Pinky and the Brain, The Fairly Odd Parents, Recess…)
The program is fun for little kids, but has sassy attitudes and plots that will appeal to older kids and some adults. The characters are quirky and they get into some fun little escapades.
It had been many years since I had seen Danny Phantom, so I didn't remember any of the specific episodes. The music, basic plot and characters were definitely familiar.
There are 20 episodes on 4 discs that will provide you with hours of entertainment. This is a classic cartoon that will be enjoyed by new fans and old ones who want to take a trip down memory lane.
Disclaimer/Disclosure: Review sample provided to me.