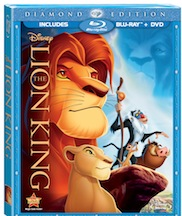 The Lion King
Diamond Edition
Blu-ray DVD Combo
Release date 10/4/11
Synopsis: An unforgettable story, breathtaking animation, beloved characters and award-winning music sets thestage for "The Lion King", a Disney classic that follows the adventures of Simba, the feisty lion cub who "just can't wait to be king." But his envious Uncle Scar has plans for his own ascent to the throne, and he forces Simba's exile from the kingdom. Alone and adrift, Simba soon joins the escapades of a hilarious meerkat named Timon and his warmhearted warthog pal, Pumbaa. Adopting their carefree lifestyle of "Hakuna Matata," Simba ignores his real responsibilities until he realizes his destiny and returns to the Pride Lands to claim his place in the "Circle of Life."
The Lion King is definitely a classic! I can remember rushing to get the VHS when it first came out. (Collectible Clam Shell Case!) My kids watched it over and over again.
It had been years since I had seen the movie, but it instantly came back to me. I remembered the scenes and knew the words to all the songs. And, yes, I will admit…. I cried. A good Disney movie can always make me cry – even if it's animated.
The new Diamond Edition has the original movie that I remember and a lot of fun bonuses. The DVD is good, but the Blu-ray is even better. You get the quality and definition of Blu-ray and extra bonus features that aren't on the DVD. You'll get some behind the scenes history of the movie, deleted scenes, bloopers and music.
The Lion King is fun, heartwarming and there are timeless lessons to be learned.
The Diamond Edition would be a great gift for an older Disney fan or for a child who is discovering the magic for the first time.
HOW TO CONNECT – You can like the Lion King on Facebook and follow Disney Animation on Twitter.
Disclaimer/Disclosure: Review sample provided to me.