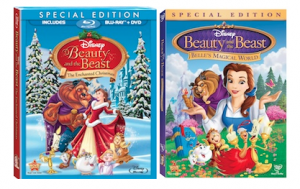 Walt Disney Studios Home Entertainment has just released two new Beauty and the Beast Special Editions that you and your children can enjoy throughout the holiday season and beyond!
BEAUTY & THE BEAST: THE ENCHANTED CHRISTMAS SPECIAL EDITION
is a delightful tale! Share in the wonder as Mrs. Potts recounts another "tale as old as time" about a Christmas past that almost wasn't – thanks to the scheming of former court composer Forte, who is determined to keep Belle and Beast apart forever. This enchanting adventure boasts delightful songs, spellbinding visuals and enduring themes of hope, friendship and love.
BEAUTY & THE BEAST: BELLE'S MAGICAL WORLD SPECIAL EDITION
is a new Special Edition inspired by the original classic, Beauty and the Beast. Join Belle, Disney's spirited princess, Beast, Cogsworth, Lumiere, plus some charming new friends, as they discover how teamwork and friendship can turn a once-gloomy castle into a dazzling palace fit for a princess! This fun-filled, instant classic with your favorite characters and enchanting songs proves that true beauty shines from within!
I can remember the magical feelings we had the first time my family watched Disney's Beauty & The Beast on vhs years ago. The movie is magical. It's full of adventure and positive lessons about love.
Belle is beautiful, intelligent and has a good heart to go along with her independent and adventurous spirit. Mrs. Potts and Chip have always been favorite characters here. Cogsworth and Lumiere are always entertaining as well. Lumiere always inspires odd attempts at mimicking his accent!
The Enchanted Christmas is especially fun to watch this time of year, but the messages are timeless and a great way to keep the Christmas spirit alive throughout the year. Belle's Magical World feels like a perfect start for the new year with it's theme of working together to make a fresh start.
The bonus features are fun. There are some games featuring the characters, but my favorites are the musical bonuses. It's always fun to sing along.
The new special editions contain all the magic of the original feature film along with updated adventures and bonus features. Each of these are only available for a limited time, so you'll want to pick them up before it's too late. They are ready for gift giving with an attached holiday themed to/from sticker.
HOW TO CONNECT – You can like Beauty and the Beast on Facebook.
Disclaimer/Disclosure: Review sample provided to me.