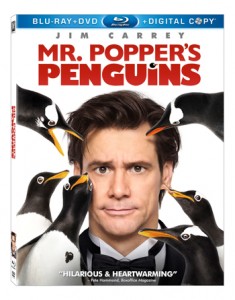 Mr. Popper's Penguins
Fox Home Entertainment
DVD Release date 12/6/11
Synopsis: The whole family will be full of laughs watching Mr. Popper, a driven businessman who is clueless when it comes to the important things in life until he inherits six, "adorable" and mischievous penguins.
As Mr. Popper quickly gets acquainted with – and increasingly attached to – his winged roommates, his life quickly unravels: the deal he's long been working on with a formidable socialiate, Mrs. Van Gundy, played by the acclaimed Angela Lansbury (Murder She Wrote, Beauty and the Beast), is derailed and Popper almost lands in jail. While Popper's penguins turn his swank New York apartment into a snowy winter wonderland – they teach him valuable lessons about family- human and otherwise!
I haven't seen the movie yet, but I will be seeing it soon.
The book is very entertaining and it looks like they've put together the right cast to really bring the book, it's funny scenes and it's heartwarming message to life.
I always love a good animal movie and my family enjoys Jim Carrey's sense of humor. My son even dressed up as Ace Ventura, Pet Detective for Halloween this year. I'm expecting Mr. Popper to be a bit more subdued than Ace, but the clips I've seen make it look very fun.
This weekend I'll be going to a special Mr. Popper's screening and slumber party. Yes, I said slumber party. My family will be sleeping with the penguins at Sea World San Diego. OK, the penguins will not be in our sleeping bags, but we will be sleeping at Sea World next to actual penguins that live there.
We're looking forward to a fun event. I'll post more about it after we get back.
HOW TO CONNECT – You can follow Fox Home Entertainment on Twitter.
WHERE TO BUY – Mr. Popper's Penguins is available at a discount on Amazon.
Disclaimer/Disclosure – Sponsored event.