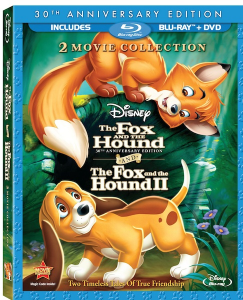 The Fox and the Hound
30th Anniversary Edition
The Fox and the Hound 1 and 2
Disney
Synopsis: When Tod, an orphaned fox cub meets Copper, a coonhound puppy, they make a pledge to be lifelong friends, not realizing that Copper is being groomed to hunt wild animals, including foxes. Copper spends the winter with his owner, Slade, and an older dog, Chief, tracking animals at a remote cabin. When they return, a lonely Tod eagerly greets his old playmate but is stunned when a reluctant Copper joins Slade and Chief to chase Tod through the forest. During the pursuit, Tod escapes but Chief is seriously injured. Seeking revenge, Copper hunts down Tod only to find himself confronting an even bigger enemy, which he and Tod must face together.
The Fox and the Hound is a classic! It has all the elements that I've learned to associate with Disney films.
I don't think I had ever seen the sequel before, but I definitely remembered everything about the original. I watched it when I was younger and my teens used to check out the VHS tape from our local library again and again.
The movies have good life lessons about caring for others and the importance of following your heart instead of blindly doing what others tell you to do. These are good lessons that are important for little ones to have reinforced. Adults and older kids can also appreciate the message.
It had been years since I had seen this, but it still touched me. Yeah, Disney movies have the ability to make me cry! When I was younger, I always identified with the fox – wanting to be loyal to a variety of friends from different backgrounds. As a mom, I identified more with the woman who rescued and cared for the abandoned fox. That nurturing relationship is beautiful.
The movie is tense and full of action. Some smaller kids may have a hard time with the sadness and danger, but others will be fine with it.
The Fox and the Hound brought back great memories for my family.
HOW TO CONNECT – You can like The Fox and the Hound on Facebook and follow Disney Animation on Twitter.
Disclaimer/Disclosure: Review sample provided to me.